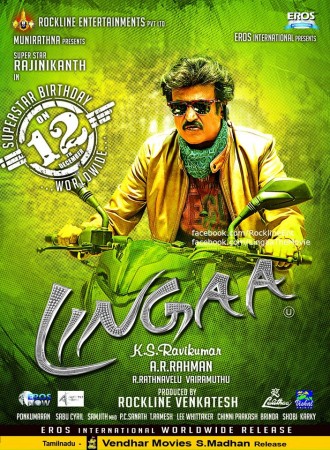 KS Ravikumar's latest directorial venture "Lingaa", which released in theatres on 12 December as a birthday gift to Tamil Superstar Rajinikanth, has garnered mixed reviews and average ratings from Telugu film critics.
The film critics in Andhra Pradesh and Telangana say that "Lingaa" is loaded with all masala ingredients to woo Telugu audiences, but the storyline is old and tried and tested. They found the first half of the film very engaging and entertaining, but the flashback episode in the second half slows down the movie and it drags.
Rajinikanth's performance, Sonakshi-Anushka's glamour, punch dialogues, comedy scenes, AR Rahman's music, amazing cinematography and brilliant art directions are the main highlights of "Lingaa", according to Telugu critics. The movie has been rated an average 2.64 out of 5 stars.
Here are some Telugu film critics' ratings and verdict on "Lingaa"
Rajnikanth movies are known for creating magic on screen with nice story and punch dialogues. Though the intention is to create a good content, the magic in Lingaa is missing. Plus points of the film are Rajinikanth, dialogues and characterization of Lingeswara Rao (pre-independence). The screenplay is uninteresting and direction should have been better. On a whole, Lingaa is for fans!
"Lingaa" is an expensive film that sees Rajani playing two contrasting roles, but not doing two dissimilar acts.
With "Lingaa", it is once again proved that fans just love Rajini's screen presence and adore him completely. Entertaining first half and a rocking performance by Rajini are the major assets. But a very long and lackluster second half spoils the fun completely. Finally, if you are a fan of Rajini, you will enjoy the film. Otherwise, go in without expectations.
The film gave equal importance to family, tradition, romance and patriotism with all the important characters getting a decent exposure. Rajnikanth will easily spin a box-office magic with Lingaa. Don't miss "Lingaa", if you are a die-hard fan of Super Star Rajinikanth. One can surely watch this film for Rajinikanth's magic in dual role.
The plot resembles some of Rajini's past movies and it's predictable to say the least. A lot more intensity and gripping narration could have created wonders though. Of course, Rajini entertains with his trademark styles throughout the course of the movie. 'Lingaa' pleases all those die-hard Rajinikanth Fans to some extent but don't expect it to be anywhere close to 'Narasimha'!
Rajinikanth performance and great locales can only hold your attention for a while. The story doesn't progress at a pace it needs to, you will find yourself shifting in your seat, waiting for the sobbing pre-independence flashback to end. Is Lingaa on your mind? Get rid of this pronto. This is a wreck of a movie strictly for Rajinikanth fans who might be looking for a helter-skelter three hours ride that is far more woozy than rash.
After watching him in films like Robo, it is disappointing to see him vying to grab audiences' attention with a film that has a tried and tested plot. The Tamil audiences might simply love the film for the simple reason that they get to see Rajinikanth in flesh and blood after a very long time. But one is not sure as to how the Telugu audiences will react to the dubbed version which is reminiscent of many films.