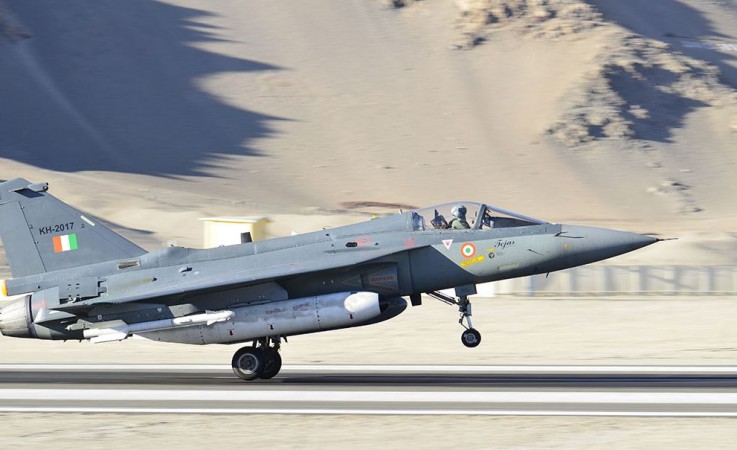 In a major development, the Hindustan Aeronautics Limited (HAL) has said it will manufacture the weaponised version of Light Combat Aircraft (LCA) Tejas for the Indian Air Force.
The company spokesperson said the public sector defence undertaking has got the green signal for rolling out the weaponised version of Tejas, its indigenously developed light fighter.
The weaponised unit of the single-seat, single-jet engine, multirole light fighter will be delivered to the Indian Air Force by the year end, the spokesman said, according to the Press trust of India.
"The actual final operational clearance, however, will take place only after extensive tests and trial," the spokesman said, adding that the Centre for Military Airworthiness and Certification (CEMILAC) gave the go ahead for the manufacturing of weaponised Tejas Mk1.
The weaponised version of Tejas will have battle-time capabilities such as mid-air refuelling, AESA radar, electronic warfare suites and a variety of bombs and weapons, the report said.
The Bengaluru-headquartered public sector behemoth has been reeling under a double whammy of depleting order book and chronic delays in the deployment of budgetary allocations.
By the end of October, the defence PSU's cash in hand sunk to just Rs 1,000-odd crore. At that level, the company would be able to pay its 29,035-strong staff for only three more months.
As of March 31, 2018, the company's cash and cash equivalents had stood at Rs 6,524.20 crore, compared with Rs 17,671 crore at the end of the financial year 2014-15.
Though the central government allocated Rs.10,000 crore for HAL for the financial year 2018-19, the finance ministry disbursed only 40 percent till the end of October.
The loss of the Rafale fighter contract was another blow to HAL, which was already looking down the barrel, and was facing the prospect of stopping key design and development projects.