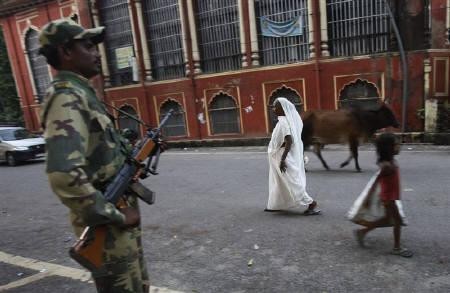 The situation in Saharanpur is likely to come back to normalcy soon, as a district official has reportedly said curfew may be relaxed from five hours on Wednesday to 10 hours on Thursday if the situation remained calm today.
The curfew in the riot-hit Saharanpur in Uttar Pradesh has been lifted in the Sikh-dominant new city, at 5.30 pm today that would last for five hours, until 1.30 pm. While, the curfew in the old city with maximum Muslim population would be relaxed from 2 pm to 7 pm.
Yesterday, the curfew was relaxed to let Muslims celebrate Eid and offer prayers at the mosques. The celebration, though too mute, passed on peacefully. People reportedly went to mosques, wearing arm-bands and carrying peace banners amid tight security.
Hoping to witness similar peaceful situation today, the city District Magistrate Sandhya Tiwari reportedly said the curfew would be relaxed from 7 am to 5 pm on Thursday, according to the New Indian Express.
The curfew was imposed in Saharanpur following a clash between two communities—Sikhs and Muslims—over a piece of land adjacent to Gurudwara. Both the communities had indulged in disputes with each other over the ownership of the land.
The dispute took to violence on Saturday when a communal clash broke out between the two communities, after Sikhs started construction on the disputed land on Friday. The communal tension took lives of three, injured 24 and destroyed 165 shops and 42 vehicles, NDTV reported.