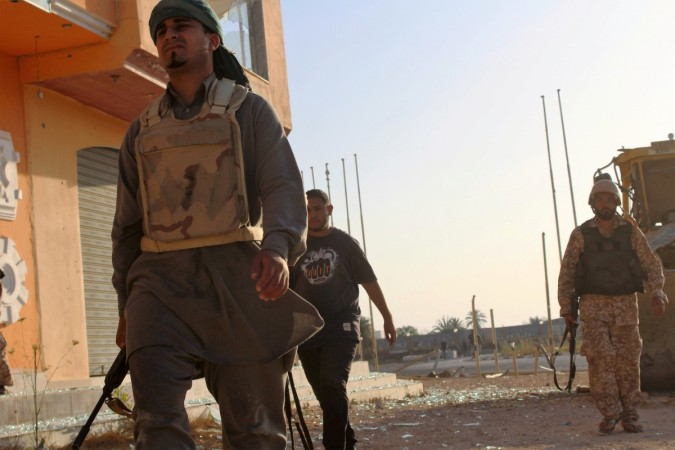 Continuing the battle against the Islamic State group, also called ISIS, Libyan forces claim to have entered the coastal city of Sirte, a key stronghold of the militant group, and hope to take control of the city in two-three days.
According to the Guardian, the advancement of the Libyan army, supported by the United Nations, indicates that ISIS may have lost control of all its territories in the country.
Spokesman for the forces of the UN-backed Government of National Accord (GNA), Mohamad Ghassri, told AFP: "The armed forces entered Sirte. They are currently in the centre, where clashes continue with Daesh... The operation will not last much longer. I think we'll be able to announce the liberation of Sirte in two or three days."
Al Jazeera quoted GNA's Facebook post which said their "forces are in full control of Tagreft barracks and military engineers are inspecting the zone to clear anti-personnel mines." The post added that clashes 20 km outside the city killed six and injured 15. Libyan forces, with the support of the Libyan air force, have also managed to gain control of a second barracks called Al-Jalet, a bridge and an intersection that leads to the western entrance to Sirte.
Naval Commander for central Libya, Rida Issa, was quoted by Al Jazeera as saying: "Our forces control the entire coast of Sirte. They (ISIL fighters) will not be able to flee by sea."
According to the Guardian report, the military offensive against ISIS on Thursday was mounted from three directions with aerial strikes on the administrative hub of ISIS in Libya, the Ouagadougou conference hall. Libyan navy claimed that the city was completely under their control by late afternoon.
Videos showing militiamen flashing victory signs and chanting "Allahu Akbar" or "God is Great" as they drove around Sirte were circulated on social media.