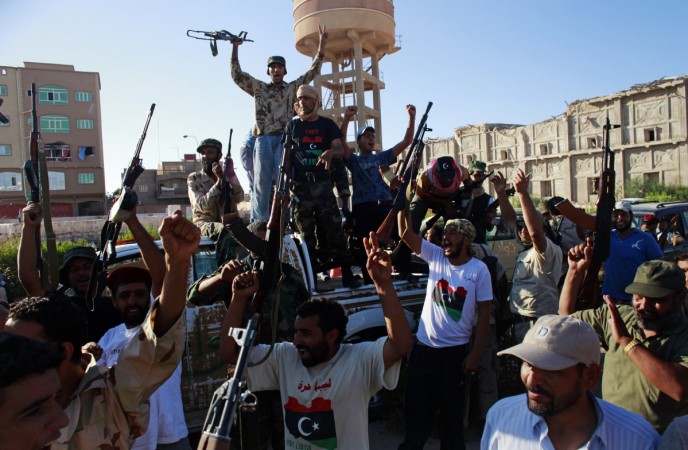 Update: 4.04 p.m. IST -- Minister of External Affairs Sushma Swaraj tweeted Saturday that 26 more Indians were working at the Zawiya Hospital, 45 km from Libya's capital, Tripoli, after confirming that an Indian nurse Sunu Sathyan and her son, Pranav, died Friday when a rocket hit their apartment.
She tweeted that she was in touch with Sunu's husband, Vipin.
"We have issued advisories many times. I request you once again - Please move out of the conflict zones (sic)," Swaraj tweeted Saturday urging Indians in conflict zones to return.
Original Story -- Two Indian nationals were killed Friday in a shelling in Libya's ancient city Sabratha, which was captured by the ISIS briefly in February 2016. The city is the centre of conflict with local security officials fighting ISIS on ground and the U.S. conducting air raids.
Sunu, 31, a nurse from Kerala, and her 18-month-old son, Pranav, died Friday night as their apartment building was hit by a missile. Her husband, Vipin, who was not home, survived the attack, the New Indian Express reported. Other residents of the building also died in the attack. Sunu and Vipin — who hail from Thulasi Bhavanam, Veliyannoor in Kerala — were nurses and had moved to Libya after their marriage in 2012. They were employees of Sabratha Hospital.
Kerala Chief Minister Oommen Chandy told IANS that they are trying to get in touch with Libya to find out the latest details.
The mother and child were victims of strife between the Islamist militants and the government in the conflict-ridden city, sources told the New Indian Express. They also said that a missile landed in the bedroom of the apartment the couple was living in.
This is not the first time that an Indian has become a target of violence in the Middle Eastern country.
In July 2015, four Indian teachers working at the Tripoli University were abducted from Sirte. Two of the kidnapped were released later, Sushma Swaraj, minister of External Affairs had tweeted. In September 2015, two Indians were abducted in Sirte by an unidentified group.
The Ministry of Overseas Indian Affairs in December 2015, when it had not yet merged with the Ministry of External Affairs, was quoted by the Sunday Guardian as saying: "3,600 Indians have been evacuated from Libya so far. These evacuations were facilitated through land, air and sea, with the assistance of countries neighbouring Libya. An estimated 2,000 Indians still remain in Libya."
The ministry also said that they were trying to "persuade" Indians to return. However, Indians who had been living in camps in Tripoli said that they were unable to return as they could not pay the exit visa fine, which was supposed to be waived, but was still applicable.
"The Indian government has not sent any help to us and we do not know what will happen to us," Shail Hussein, a structural engineer, told the Sunday Guardian from Tripoli, January 2016.
The ISIS had beheaded 10 security officials in Sabratha in February 2016. The government then killed seven alleged ISIS militants in retaliation, while the U.S. conducted air strikes on the city, Al Arabiya English reported.