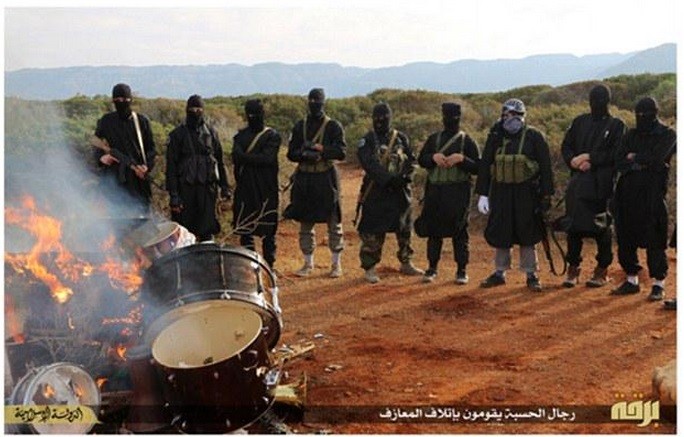 Isis fighters in Libya have released pictures that show the group burning musical instruments, because they are 'un-Islamic.'
The pictures, where a group of heavily-armed, masked militants stand as they watch a pile of drums, brass and woodwind instruments being burnt in the Libyan desert, were released a few days ago and have gone viral since then.
The brightly-coloured instruments are largely understood to have been confiscated by the so called 'religious police' of the extremist group and were possibly destroyed near the port city of Derna located in eastern Libya.
An accompanying message in the pictures claimed that "these un-Islamic musical instruments in the state of Warqa (we call it the city of Derna). "
They were "burnt in accordance with Islamic law," the message released with the picture further said, as reported by Daily Mail.
This is not the first time Isis fighters have waged war against music. The 'religious police' last year were also filmed beating musicians and destroying their instruments as punishment because they played 'un-Islamic' keyboard.
Pictures released that time showed men being smacked by a wooden stick on their back and legs in a public square in Syria. The fanatic Isis regime had ruled that the electric keyboard was "offensive to Muslims."
Reports during September last year also claimed that Isis had imposed a new curriculum in schools in Mosul – a major base of the extremist outfit in Iraq. The new rules reportedly banned art and music and classes on history, literature and Christianity.
In another picture, other instruments such as keyboards, and what appeared to a lute, were smashed into pieces. The incident reportedly took place after a raid by the religious police in Bujaq, which lies few miles to the east from the strategic city of Aleppo in Syria.