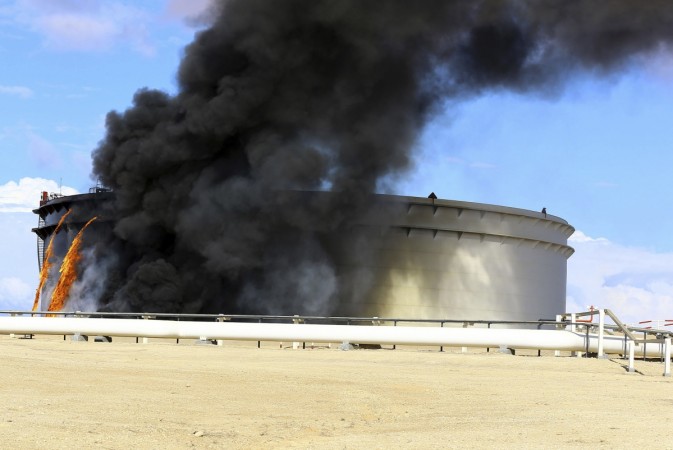 One of Libya's biggest hotels witnessed a terror siege on Tuesday, as a car bomb exploded outside while gunmen shot dead five foreigners and three guards.
The bomb went off outside the Corinthia hotel in Libya's capital of Tripoli early on Tuesday morning, and at least five gunmen are believed to have stormed into the hotel, opening fire at guests.
At least five foreigners and three guards were killed by the gunmen, while several people are believed to have been taken hostage.
The Tripoli branch of the Islamic State (Isis) is said to have claimed responsibility for the attack, seen to be a retaliation to the recent death of Libyan Anas al-Libi, who was in a US jail for his alleged role in the 1998 US embassy bombings, according to the Site Intelligence monitoring group.
The Corinthia hotel usually hosts patrons from countries such as Italy and Britain, though the nationalities of the dead is not yet known. The hotel is also the venue for the United Nations support mission in Libya to hold its meetings.
While no one has claimed responsibility for the attack yet, some tweets suggested that the Islamic State or its supporters had claimed the attack.
Libya has been plagued by frequent terror attacks, including car bombings in the past months as armed rival groups fight for power.
#Libya: attack on #Tripoli's #Corinthia hotel was claimed earlier by #IS & dubbed "The Raid of Abu Anas al-Libi". pic.twitter.com/HG61tukyv7

— Charlie Winter (@charliewinter) January 27, 2015
In #Tripoli Islamist militants have stormed the iconic #Corinthia hotel, former hotspot of diplomats and the foreign biz community in #Libya — Firat Uenlue (@FiratUenlue) January 27, 2015
Car bomb outside #Corinthia hotel in #tripoli #libya pic.twitter.com/xwdY9U0Yfr

— Dan Pluck (@dannypluck) January 27, 2015
5 attackers in #Corinthia attack, randomly shot @ guests.2 Philippine workers injured, two cars burnt, 3 attackers r still trapped in hotel

— HishamKad (@HishamKad) January 27, 2015