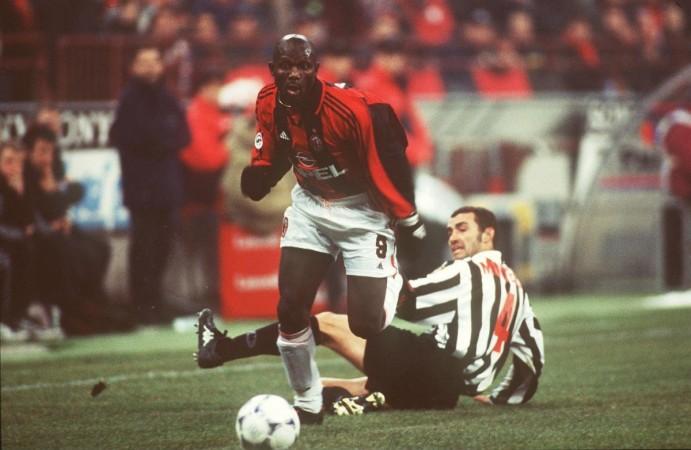 One of the greats of modern football and the best player from Africa, George Weah inspired millions of footballers around the world with his athleticism and work-rate. Following a successful footballing career, Weah dipped his toes in the world of politics and became the President of Liberia earlier this year.
But Weah put his presidential duties on hold for a night when he laced up his football boots once more, as he came out of retirement for one final match, against Nigeria. Against a strong Nigerian side, the 51-year-old played 79 minutes, but could not help his team defeat the Nigerians, losing the match 2-1.
The match was to mark the retiring of Weah's iconic No. 14 jersey, a number which was also worn by French striker Thierry Henry, who idolised the talismanic Liberian striker.
James Debbah, the manager of the Liberian national team and a former teammate of Weah, also came out of retirement in the match, at 48 years of age.
Meanwhile, his 18-year-old son, Timothy Weah, who is touted for great things in the future, started for the United States national team, in a friendly against Mexico. This is probably the first time that a father and son have played a football match on the same day for two different countries.
The junior Weah was born in New York, USA, and hence was eligible to play for them, and made his debut earlier this year. A striker, like his father, Timothy Weah joined Paris St-Germain in 2017 and has scored twice in three appearances for the French club this year.
Twitter went crazy about the news of the return of "King George".
So 51 year-old George Weah did play for Liberia - for 79 minutes (!) - against Nigeria tonight in a friendly.

Apparently the game "was arranged in honour of the country's president" and to retire his number 14 shirt.

Still seems pretty crazy. It was a strong Nigeria team.

— John Bennett (@JohnBennettBBC) September 11, 2018
19 year old Tim Weah will play for the United States today against Mexico.

His 51 year old father, George Weah, played for Liberia today for 79 minutes against Nigeria!

It's the first day ever that a father and son have played on the same day for two different national teams!

— ⌬ Christian Candler ? (@thecandIer) September 11, 2018
Incase you missed it, 51-year-old President of Liberia and Ballon d'Or winner, George Weah is on the pitch playing for Liberia in an international friendly game against Nigeria, wearing the no. 14 jersey. Liberia's Coach and retired player, 48-yr-old James Debbah is also praying. pic.twitter.com/k9FILR55bc

— World Publicist (@IsimaOdeh) September 11, 2018