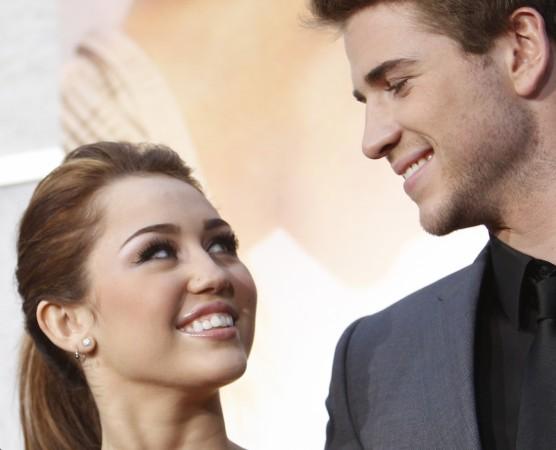 Liam Hemsworth seems to have responded to rumours that he and Miley Cyrus have split. Fans of the celebrity couple were recently shocked after reports emerged that they have ended their engagement.
The break-up news spread after Cyrus deleted all of her Instagram photos. However, squashing the rumours, the Hunger Games actor posted a video to his Instagram Story on 19 July of him and Cyrus dancing in their car. Suddenly the 28-year-old actor screams and an object pops out in front of the former Disney star's face.
"I'm gonna beat the s**t," Cyrus screams, much to his delight. The clip ends with Hemsworth telling the camera that he was "Number one."
Hemsworth has pranked Cyrus in a similar way, several times throughout their relationship. In May, during an appearance on Jimmy Kimmel Live!, Cyrus spoke out about a video Hemsworth had shared at the time, which featured him hiding at the foot of a staircase and then scaring her.
"I was already scared," she said. "That was what was so annoying. I was putting—and this was bad, I know that it's May, and I was putting our Christmas decorations away finally. I like lights, and I like shiny things and elves, and they just live for like a whole summer. So now it was time, May 1, Christmas has gotta go."
"So I was already in this really creepy basement and so I was coming up to say 'Oh my god, that basement is so scary,' and then he jumped out at the worst time," Cyrus continued.
"I just don't know why I haven't caught onto this is all—but I don't know he's around every corner. He's around a lot of corners," she said. "I'm obviously very loud so I'm not good at scaring people. because I'm like—" Cyrus hiss-laughs manically, "And he's like 'I can hear you back there behind the door.'"
The couple reunited in 2016 after calling off their engagement in 2013. The same year, during an interview with GQ magazine, Hemsworth talked about their renewed relationship.
"I guess when I feel something, then I just feel it and I go for it. I make my decisions about what's going to make me happy, what I think is right and what I want to do — and I don't worry too much outside of that," he said.
"Of course, it was hard, man. But at the time, we were going in different directions and it's just what needed to happen. We were both super young and it was a good decision at the time — we both needed that," he added.
"People will figure it out, they already have ... They're not dumb," he continued.