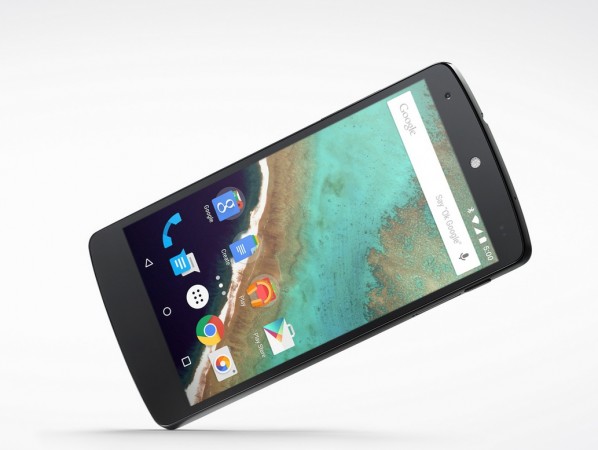 Snapshots and video of the rumoured LG Nexus 5 (2015) have surfaced online revealing key features of the device.
Twitter spy OnLeaks aka Steve Hemmerstoffer, in collaboration with uSwitch Tech, has got hold of the video-clip featuring the alleged LG Nexus 5 (2015) aka Bullhead prototype.
The phone featured in the clip is "based on detailed factory schematics provided to accessory-makers", said the technology blog.
The Nexus 5 (2015) prototype sports 5.2-inch display and measures 146.9mm long, 72.9mm wide and 8.0mm thick.
It features curvaceous rectangular candy bar body with slim edge and glossy metal-based frame around it. We also see microUSB port (probably Type C USB) with audio jack at the bottom, whereas the the power and volume rockers are placed on the left side of the edge.
On the rear-side, it is shown to flaunt plastic based polycarbonate shell with a dual-LED flash, laser based auto-focus and a circular protruding camera. And just below the camera module we see the disk shaped finger-print sensor with metal ring, hinting that the LG Nexus phone will too feature bio-metric technology like in its phablet sibling code-named Angler, made by Huawei.
Also read:Huawei's Google Nexus Tipped to be World's First Smartphone to Boast Universal Cellular LTE Modem
On the front, we see a camera to the top left side and the dual loud-speaker grills -- one at the top and another at the bottom. [View the video, HERE]
Read more:Google Huawei Nexus (2015) Hands-on Video Leaked Online
In related development, Internet's most popular smartphone savant Marques Brownlee has posted a live image of white-hued LG-Nexus 5 (2015), and the similarity between the devices in the leaked video and snapshot is uncanny, especially on rear-side. It also confirms the presence of polycarbonate cover, laser-autofocus, dual-tone LED flash, circular finger-print sensor with metal ring on the back.
Recent reports have indicated that Google's Huawei Nexus will be unveiled along with LG Nexus device later this year. The 5.7-inch Huawei Nexus is said to feature pretty similar hardware seen in the LG version, but only differ in screen size.