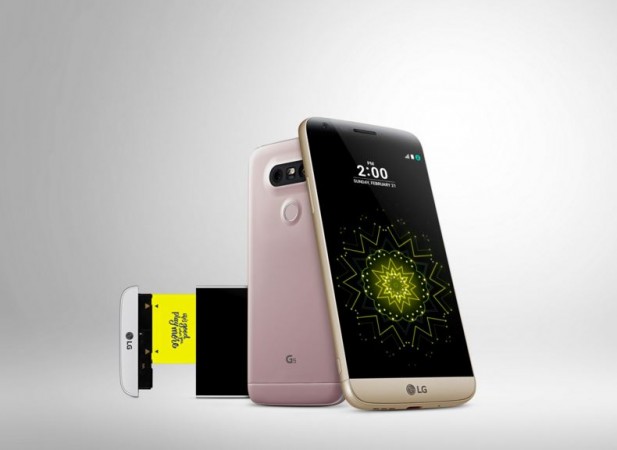 South Korean consumer electronics major LG last month launched the company's 2016 flagship smartphone LG G5 in India.
Ever since LG G5 made its official debut at the Mobile World Congress (MWC) 2016, it has heaped huge praise from tech pundits on its innovative modular design language and its photo taking abilities.
Last week, LG G5 arrived to our office and I have been using it as secondary phone. So, here's our initial impression on the marquee phone.
Design and build quality:
LG G5 is arguably the world's first commercial modular phone to make it to the market. Unlike rival flagship phones, which are shown to have great build quality and beefed up internal hardware, LG has taken a different approach by focusing on G5's design.
LG G5's despite boasting an all-metal body, it comes with a removable battery option, which is unseen in any metal-clad phones in the flagship category.
The unique modular design concept of LG G5 allows users to detach the lower chin and replace the battery. The user just has to press the dock button provided in the left-edge at the bottom.
Performance:
LG G5, not only boasts of unique design language, it also boast top-of-the-line internal hardware on par with rival brands. It boasts Qualcomm's most powerful processor yet, Snapdragon 820 quad-core SoC (System-on-Chip) backed by 4GB RAM and 32GB inbuilt storage (expandable up to 2TB).
It also run Android 6.0.1 Marshmallow-based LG's custom UI, which less clutter compared to other brands. This apparently helps the device perform more efficiently. In our brief time on LG G5, the device's response was quick and apps did open faster despite numerous applications were opened simultaneously to test its response time and was successful in impressing us.
Camera:
LG G5 boasts 16MP+8MP dual-cameras — one with a standard 78-degree lens and another with a 135-degree wide-angle lens, the widest available in any smartphone, the company claims.
The 135-degree lens offers a viewing angle approximately 1.7 times wider than those of existing smartphone cameras and 15 degrees wider than the human eye's field of view.
We tested LG G5's primary camera and it aced the test in flying colours. We were impressed with the colour reproduction of the scene on the picture and also wide-angle photo taking ability.
To further enhance the photography experience, LG is providing an accessory — LG CAM Plus (has to be bought separately). It is a camera module that can be attached through the battery slot. It provides a comfortable grip and gives convenient control like a standalone camera.
LG CAM Plus provides physical buttons for power, shutter, record, zoom, LED indicator and comfortable grip. It also offers intuitive auto-focus and exposure-lock, features usually found on standalone digital cameras. When attached to the LG G5, it provides an additional battery capacity of 1,200mAh to allow for longer shooting times.
It's 8MP front-snapper also took some fine quality selfies. We will add more on the G5's camera's ability in the full review.
Battery:
LG G5 comes with a 2,800mAh battery. Though it has a low cell capacity, LG G5, if used moderately, it can last a day.
Also read: LG G5 v G4: What's changed in the new flagship smartphone
Watch this space for more updates.
We will be coming up with full review next week and as a part of our user interaction initiative, we urge our readers to send us the any queries or requests to test on LG G5 in our comments section below. We will include answers (results) of select interesting questions in our final article.