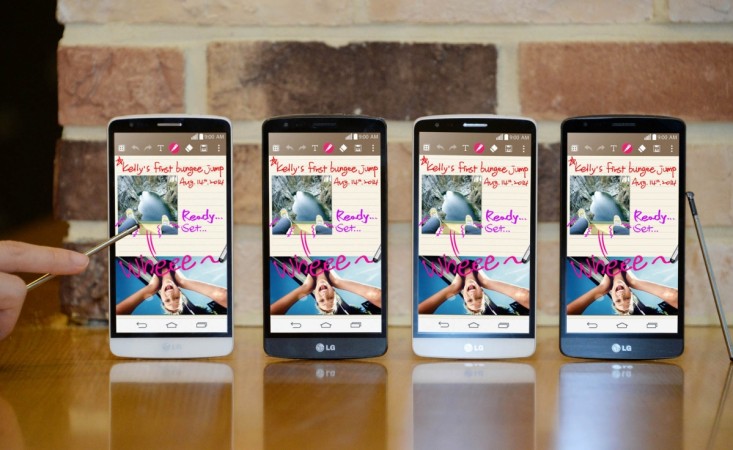 Attention is back on the LG G4 with its release date getting closer and because of the stupendous success of its predecessor, the G3. Now, more features of the device have been leaked ahead of its unveiling expected to take place in the first half of 2015.
LG is yet to confirm the arrival of the LG G4 but several reports claimed that it would be released in May this year. Now, a report by Phone Arena has suggested that it would be unveiled at the upcoming Mobile World Congress 2015 (MWC 2015) in March.
Ken Hong, Director of Corporate Communications for LG had reportedly hinted the existence of the G4 at the Consumer Electronics Show 2015 (CES 2015) by dropping the name of the smartphone during an interview to TrustedReviews but no mention was made on its arrival.
Major features of the device were revealed in the report by Phone Arena (via Techmaniacs). A dump of Android 5.0 posted in the website claimed that the LG G4 will be powered by Qualcomm Snapdragon 810 processor; come packed with 3GB RAM, and have 5312×2988 picture resolution, giving a clear hint that it would come with a 16MP camera, an upgrade from 13MP seen in the G3.
Meanwhile, The REM had earlier reported that the LG G4 would sport a 5.7 inch HD –IPS +LCD screen and come in two models – one with 32GB internal memory and 3GB RAM, and the other with 64GB storage and 4GB RAM. It went on to claim that the device would be powered by Qualcomm Snapdragon 801/802/805/808 processor, run on Android 5.0 Lollipop, and house a 15 to 17MP main camera and 3 to 4MP front snapper.
In yet another report by iKnow Today, the G4 is expected to sport either a 5.5-inch or 5.9-inch display with 2/4K resolution and screen protected by either sapphire crystal glass or Corning Gorilla Glass 4. It went on to claim that the device would be powered by a Qualcomm Snapdragon 808 or 810 processor, and 3500 mAH battery.