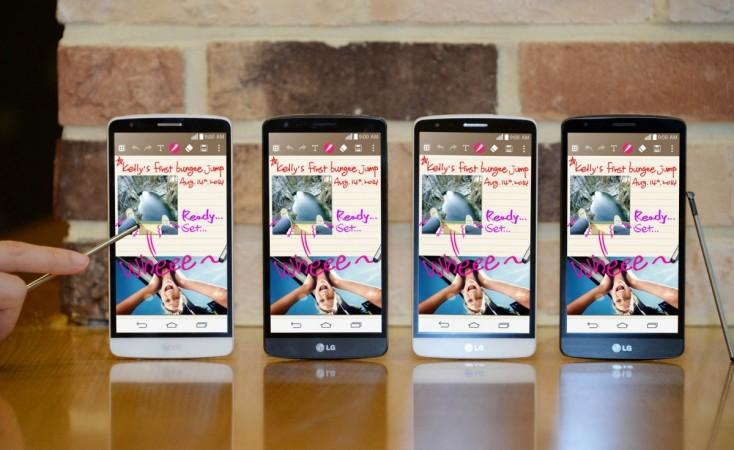 Some interesting facts of the much-hyped LG G4 have surfaced just a few days ahead of its release. Some key features of the device were accidentally leaked on a website on Sunday, adding curiosity around the device.
The LG G4 is scheduled to be unveiled either on 28 or 29 April in six cities - New York, London, Paris, Seoul, Singapore and Istanbul. The company has sent out a press invite that reads: "SEE THE GREAT FEEL THE GREAT."
The South Korean electronics giant's staging site that was under construction accidentally leaked a couple of images, revealed some major features of the device, according to a report by The Korea Herald (via Phone Arena). It revealed that the device would be powered by Qualcomm Snapdragon 808 processor instead of the rumoured Snapdragon 810 and come in plastic and leather covers. Rear home buttons are spotted and it is very likely to come with a removable battery and memory card slot.
"The site showed that the G4 would sport Qualcomm's (slower) Snapdragon 808 chip instead of the latest Snapdragon 810, which I think might lose a selling point for LG," an industry source told the site.
According to reports that have appeared so far, the LG G4 is expected to sport 5.5-inch Quad HD display with 2,560x1,440 pixels, powered by Qualcomm Snapdragon 808 processor, and run on Android 5.0 Lollipop. It is also expected to feature a 16 MP rear camera with a wide f/1.8 aperture and an 8 MP front snapper, 32GB internal memory and 3GB RAM, and 3500 mAH battery.
However, an analyst has claimed that the upcoming flagship smartphone is impressive but is unlikely to beat its predecessor, the LG G3, in terms of sales citing the release of Samsung Galaxy S6 and Galaxy S6 Edge.
"The leather-backed G4 seemed to be an impressive product," Lee Seung-woo, an analyst from IBK Investment & Securities, was quoted as saying by The Korea Herald. "But the market conditions will not be favourable."
It is to be seen if the LG G4 will beat its predecessor that has shipped 10 million units till date.