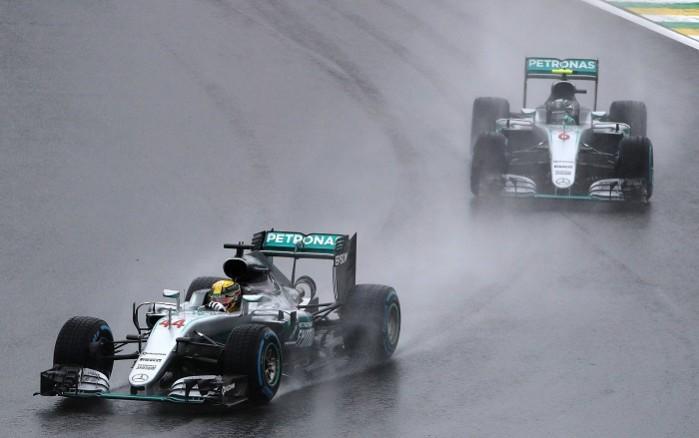 The battle for the Formula One drivers' championship title comes to the final race of the season, in Abu Dhabi. With Nico Rosberg only needing a third-place finish to clinch his first crown, defending champion Lewis Hamilton believes he faces "impossible odds" as he looks to create a major upset.
Rosberg leads the drivers' championship standings by 12 points from his Mercedes teammate Hamilton. That means, even if the Brit goes on to win his fourth consecutive race, it might not be enough, considering Rosberg has finished second in each of those Hamilton victories.
Hamilton, though, knows he has the best car in the circuit – the problem is, so does Rosberg, with the German's more reliable version the reason behind his success this season.
"I'm in a good place right now," Hamilton said. "I'm feeling super strong in this amazing car that everyone at the factories has worked so hard to give us. I've had 31 wins in four years with this team so far, which is just crazy. I'm so thankful for the great opportunity these guys have given me. We're continuing to make history together."
The defending champion knows, apart from winning the "Duel in the Desert" he will need Lady Luck to smile on him for Rosberg to finish out of the top three.
"It's not been a perfect season and I'm faced with pretty impossible odds no matter what I do this weekend," Hamilton added. "But I can't and won't give up. You never know what might happen, however unlikely it may seem.
"I'll be proud of myself and what I've achieved as long as I feel I've given my all and performed at my best. And, whatever happens, I'm proud of everyone who's been a part of the success we've shared over the past few years.
"I'm approaching this weekend the same as I do every race. I want to win and I'll give it everything to finish the season on a high."
The Abu Dhabi GP will be held this weekend, with qualifying on Saturday and the title-deciding race on Sunday.