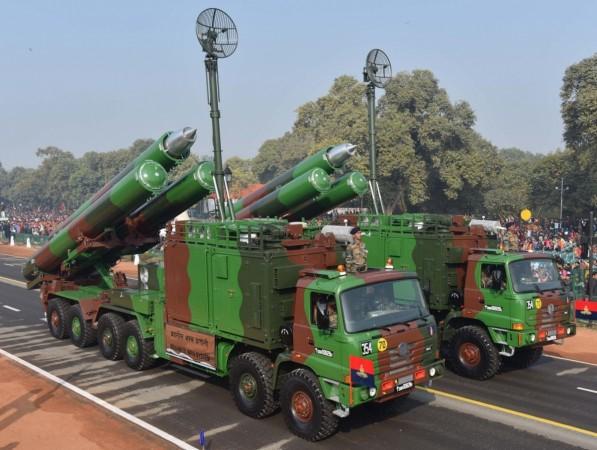 India is gearing up to defend itself from any threats from the Eastern or Western borders with the BrahMos missile, which will be test-fired this week in the Bay of Bengal.
The missile, which travels almost three times the speed of sound and has a range of up to 300 km, will be mounted on Sukhoi-30MKI fighter jet, which travels at a cruising range of over 3,000 km.
India's Defence Research Development Organisation (DRDO) and Russian rocket-design organisation NPO Mashinostroyeniya have worked on the warship missile project for quite some time now.
The combo of Brahmos-Su-30 is said to be the deadliest as it is expected to have the ability to penetrate deep into the enemy area and pinpoint and blast the target.
BrahMos is a supersonic cruise missile and can be used by the Indian Air Force (IAF) against ship and land targets or even underwater elements.
India had test fired BrahMos Block I in 2007, the last year of India's missile man APJ Abdul Kalam as President. India also tested BrahMos III in May 2017 in the Andaman and Nicobar Islands.
The capacity and speed of the land-based BrahMos missile, used by the Indian Army, is already said to be unmatched as the weapon comprises of Mobile Autonomous Launchers (MAL) controlled by a Mobile Command Post (MCP) and a Mobile Replenishment Vehicle (MRV).
Block III of BrahMos, which has been used by the Indian Army and Naval forces, has a range of 290km and is said to be world's fastest anti-ship cruise missile.
Sources have revealed that over Rs 25,000 crore has been spent on the orders of more advanced BrahMos missiles, as per the contract between India with Russia. BrahMos Aerospace and Hindustan Aeronautics Limited have taken up the task of producing more Sukhois, so more BrahMos missiles can be combined with the versatile fighter jet.
India has offered BrahMos missiles to Vietnam, and orders for missiles from at least six countries from the Asia-Pacific, Latin America and the Middle East regions have come to India.