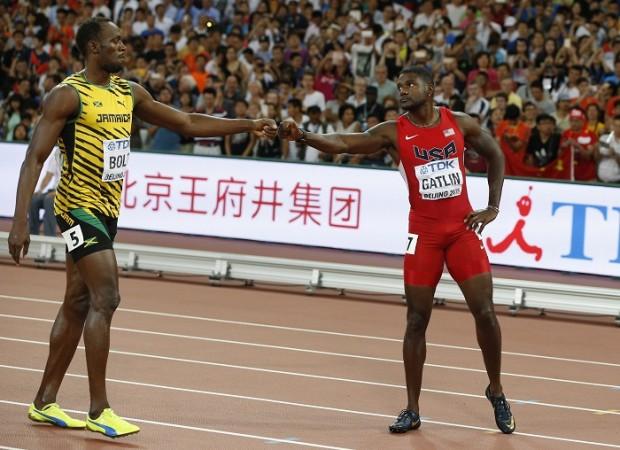 Usain Bolt is one of those rare athletes who talks the talk and then goes on to walk the walk. The Jamaican has plans to shut up his biggest rival, Justin Gatlin, in the sprint events of the Rio Olympics 2016. Bolt has his eyes firmly rooted on a three-peat, which can be attained if he wins the 100m, 200m and 4x100m relay.
Bolt's participation in the Rio Olympics had taken a serious hit as he withdrew from the Jamaican trials due to a hamstring injury early last month.
The Jamaican officials gave him a medical exemption, provided he proves his fitness in the London Diamond League. The Jamaican was impressive, winning the 200m event in London, with a timing of 19.89s. Had Bolt been a US national, he would not have got his ticket for Rio as the person must finish in the top three positions to head for the Games.
This exemption, Gatlin said was a "medicall pass" for Bolt.
"At the end of the day, when you command a certain power in track and field, you sometimes you have to exercise it. I think that's what he's doing,'' Gatlin said last month.
"He's injured and he has a medical pass. That's what his country does. Our country doesn't do that. You've got to come to the line, come ready, and if you're not ready that day, you're not getting on the boat to get to the Olympics.''
Such words from the American have only spurred 'Lighting Bolt' to run as fast as ever.
"Yes definitely, I think they have not learned over the years that the more you talk, the more I will want to beat you. It's one of those things, but I'm looking forward to it, should be exciting and they will feel my full wrath as always," Reuters quoted Bolt as saying.
The 'fastest man on the planet' is arguably the greatest men's sprinter the world has ever seen, and when the Jamaican is challenged, expect him to come up with an even better performance. There is something special about Bolt, who takes his game to a different level in world events.
Bolt might have suffered injuries in the recent past, but the 100m and 200m world record holder is as fit as ever to deliver another stunning performance in Rio. Bolt feels that at present fitness, he can run 9.6 in 100m.
"I'm feeling much more confident now. I'm much more comfortable with where I'm at. I never try to predict times, because you never know what will happen. But for me the shape I'm in, I'll say I'm in much better shape, so I think 9.6 seconds definitely," Bolt said.
One of the biggest contests in the Rio Olympics in the sprint events shall lie between Bolt vs Gatlin, who last won an Olympic gold medal in the 2004 Games in Athens. In the last two Olympics, no athlete has even come close to defeating Bolt.