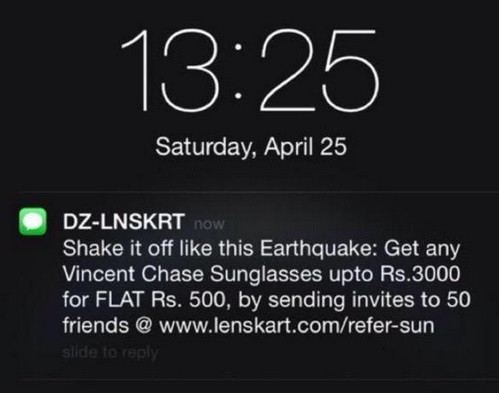 Lenskart, an online shopping portal for eyewear, seemed to take an opportunistic view of the disastrous Nepal earthquake on Saturday by putting up an extremely insensitive post for promoting a discount offer.
"Shake it off like this Earthquake" were the words the company used in text messages sent to customers on Saturday, which instantly sparked outrage online.
After receiving a barrage of criticism for the message, Lenskart posted an apology on its official Twitter account that read - "We apologize for the accidental choice of words.Our intention was not to hurt anyone's feelings.We are extremely sorry - Lenskart".
The apology may have come too late, as Twitterati expressed deep ire against the portal, with some even vowing to never shop with Lenskart again.
Sentiments everywhere in India were sombre after the tragedy, as netizens expressed sympathies for those affected through social media accounts.
More than 150 are feared dead in the earthquake in Nepal, while some casualties have been reported from India also.
Here are some reactions to the insensitive message of Lenskart:
most insensitive @Lenskart_com. pic.twitter.com/A3LGIBLjZX"

— Utpal Borpujari (@UtpalBorpujari) April 25, 2015
@Lenskart_com you guys are terrible, please inform as to how I can unsubscribe from your SMS spam immediately — Clinton Jeff (@clintonjeff) April 25, 2015
Shameful! Whats @Lenskart_com thinking?"Shake it off like this #earthquake"?!!! How stupidly insensitive can theybe? https://t.co/HsiMM3UlnR

— Rupali Mehra (@rupalimehra) April 25, 2015
People are dying and @Lenskart_com is Marketting on tht, really pathetic pls clarify #earthquake#shameonlenskart pic.twitter.com/fOk7PBgJi0 — Perit Sood (@prerit_sood) April 25, 2015
Time to #BoycottLenskart after the insensitivity shown by @Lenskart_com? pic.twitter.com/K7hR7Vm3ow

— Ashok Lalla (@ashoklalla) April 25, 2015
Lenskart's apology :
We apologize for the accidental choice of words.Our intention was not to hurt anyone's feelings.We are extremely sorry - Lenskart

— Lenskart (@Lenskart_com) April 25, 2015