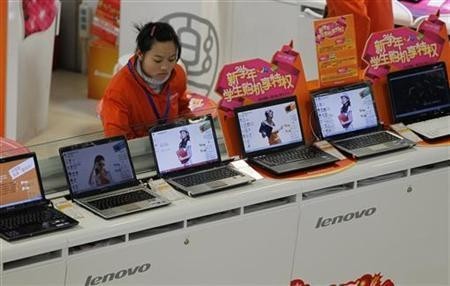 Lenovo Group Ltd could become the first Chinese company hailed as the world's biggest personal computer (PC) maker this year. Experts are expecting it to overtake Hewlett-Packard Co to grab the top spot in the technology sector.
Sales of Lenovo products have surged over the years, in spite of the declined sales in PCs caused as a result of the increased demand for tablets. The company has taken advantage of the fast-growing home market, aggressive pricing and overseas acquisitions.
"It's just a matter of time before Lenovo becomes No. 1 and it won't be surprising at all if it happens later this year," Frederick Wong, executive director at Avant Capital Management (Hong Kong) Ltd, which owns shares in Lenovo, told Reuters.
He however added that competition in the tablet sector and a weak PC market outlook could put pressure on Lenovo.
Lenova became the world's No. 2 PC maker in the third quarter of 2011 with a 14.9 percent global market share in the April-June quarter as against HP's 15.5 percent.
The growth of the company could be attributed to the fast-growing home market, with about 42 percent of Lenovo's total revenue coming from China. The purchase of Germany's Medion, acquisition of IBM Corp's business and its joint venture with Japan's NEC Corp have helped the company to come this far. Its stock rose by around 16 percent this year whereas stocks of its rivals HP, Dell Inc and Acer Inc dropped.
Lenovo currently trades at a multiple of 12.5 times forward earnings, the second-highest among the top-five PC makers and well above the 4.6 times multiple for HP, Thomson Reuters StarMine data showed.
(With Inputs from Reuters)