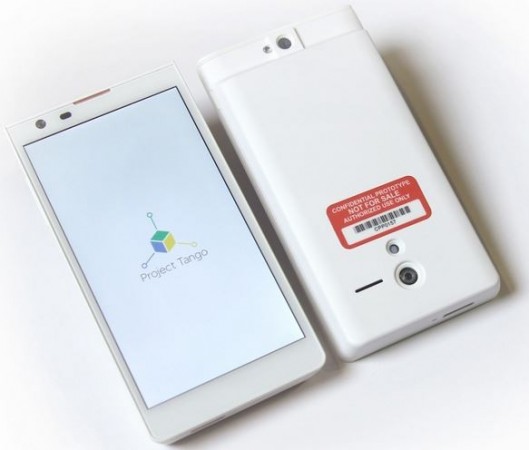 It's been close to two years since Google embarked on the ambitious 3D imaging smartphone 'Project Tango'. Now, the search engine giant has announced the commercial variant will be developed by Lenovo.
"To support the continued growth of the ecosystem, we're also inviting developers from around the world to submit their ideas for gaming and utility apps created using Project Tango. We'll pick the best ideas and provide funding and engineering support to help bring them to life, as part of the app incubator. Even better, the finished apps will be featured on Lenovo's upcoming device," said Johnny Lee, Technical Project Lead of Project Tango.
For the uninitiated, Project Tango smartphone comes equipped with customised hardware and software, capable of tracking full 3D motion of the device, while simultaneously generating maps of the surrounding space. The sensors are capable of making more than 250,000 3D measurements per second, continuously creating real-time single 3D-model of the environment around the user. [Check out the video below]
As of now, neither Google nor Lenovo have revealed when the consumer variant of Project Tango would hit stores, but once it gets released, the smartphone is certain to be a huge hit among public.
Also read: Lenovo to phase out cell phone pioneer Motorola brand by 2016 end
Google's pet smartphone project is the brainchild of ATAP (Advanced Technology and Projects), a division of Motorola Mobility that has now been acquired by Lenovo. It has been used in numerous real-life applications, especially gaming industry and 3D-based GPS navigation system.
On the social front, the smartphone will be a huge help to the visually impaired population. It can be used to give accurate navigation guidance when blind people find themselves at an unchartered place or a building premise. For instance, shopping for groceries, the smartphone can take you directly to the shelf containing the product you are looking for.
As far as gaming is concerned, users will able to play character games using their own house as the gaming arena.
Other applications include mapping and navigation in underground tunnels especially during exploring uncharted caves as well sunken ships under water.
Besides smartphone, Google is also working on a Tablet version of Project Tango with Nvidia.
Read more: Google ATAP Unveils Project Tango Tablet with 3D Sensors to Developers; Price, Availability Details
Google's official behind the scene video of Project Tango:
[Interested developers, who are eager to enroll or submit their ideas for Project Tango (App Incubator), click HERE.]