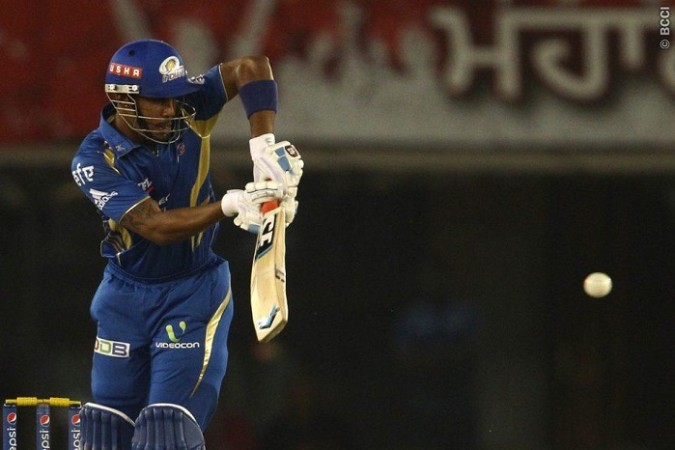 Lendl Simmons struck a brilliant hundred to guide the Mumbai Indians to the most comfortable of wins over the Kings XI Punjab in their IPL 2014 match in Mohali.
Simmons was in supreme form as the Kings XI bowlers just kept getting carted to every corner of the ground, with MI easing to the target of 157 with an over to spare after KXIP stumbled their way to 156 for eight in their 20 overs.
"This is the potential we have got, and I've spoken many times that this team has the ability to put in a performance like we did tonight," an elated MI skipper Rohit Sharma said at the presentation ceremony. The way we played tonight was brilliant."
The Mumbai Indians now have to win their final two games, to be played at the fortress Wankhede, and hope the Kolkata Knight Riders and the Rajasthan Royals fail to pick up a point in their final two games.
"I still have my fingers crossed and hope we can make the playoffs with a little bit of help," Rohit added. "We know we have to win our last two games and we hope we can do that when we return back home."
Kings XI Punjab skipper George Bailey admitted his side had been outplayed on the night, the second time the leading team in IPL 2014 have been second best against Mumbai Indians this season.
"I think we'll probably learn a lot from this game," he said. "We lost wickets through the middle, and we saw what happens when one of your guys at the top bats through. A phenomenal innings by Lendl.
"We were probably 10-15 short. If we had got early wickets, we'd have been in with a shout, but we were thoroughly outplayed. It's important to keep the momentum going.
"[On the positive side] Shaun Marsh came in and batted well. It's a balance between momentum and keeping guys fresh. It's important to finish in the top two."
Man of the Match Simmons admitted he quite enjoyed batting on the Mohali track which came onto the bat nicely, particularly in the opening six overs. "I'm enjoying my time in the IPL," Simmons said. "I was given an opportunity by the Mumbai Indians and I'm enjoying it. This was a good track to bat on so I backed myself and it worked."
Watch the Kings XI Punjab vs Mumbai Indians Match highlights HERE, HERE or HERE.