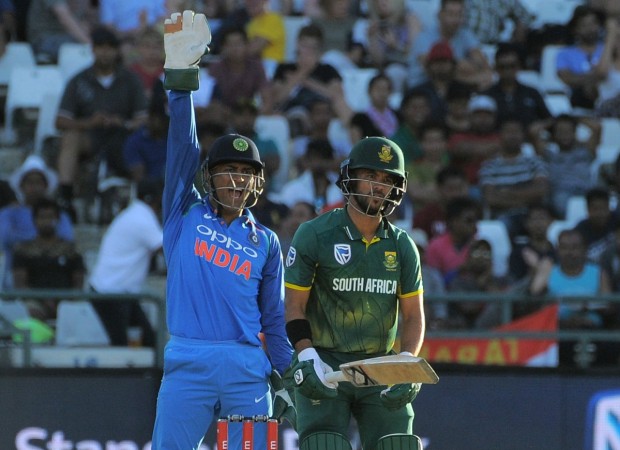 Records are tumbling in South Africa. It's just not Virat Kohli and Co who are taming the hosts. The Mithali Raj-led women's cricket team has also been at it.
While the men's cricket team has beaten its South African counterpart in the first three matches of their six-match series, the women have already clinched a three-match ODI series by winning the first two with ease.
Also read: Virat Kohli-led India create history in South Africa, end 25-year wait
Legendary names of Indian cricket -- MS Dhoni and Jhulan Goswami -- brought more joy to cricket fans by setting new records as their teams decimated their South African opposition on Wednesday, February 7.
Dhoni became the first Indian wicketkeeper to effect 400 dismissals in ODI cricket when he whipped the bails off in a flash to dismiss South Africa's stand-in captain Aiden Markram during India's 124-run win in Cape Town on Wednesday.
Also read: Virat Kohli reveals what he wants to do when he is 35
The 36-year-old also took a catch of David Miller to take his tally to 401. He is now fourth on the list of wicket keepers with most ODI dismissals, behind Kumar Sangakkara (482), Adam Gilchrist (472) and Mark Boucher (424).
However, Dhoni is the only wicketkeeper to have effected more than 100 stumpings in ODI cricket. His tally now stands at 106.
Unstoppable!
Meanwhile, Goswami became the first woman cricketer to pick up 200 ODI wickets when she dismissed Laura Wolvaardt in the second women's ODI between India and South Africa at De Beers Diamond Oval in Kimberly on Wednesday.
Australia's Cathryn Fitzpartick, who retired from international cricket in 2007, is second on the list with 180 wickets.
Meanwhile, South Africa's Dane van Niekerk seems to be closing in on Goswami's tally as the leg-break bowler, at 24, has already picked up 120 wickets.
The 35-year-old pacer, who is in the 16th year of her international career, started the series with 195 wickets. She removed four South African batters in the first ODI, which India won by 88 runs on Monday, February 5, in Kimberly.
'Every wicket is important'
Goswami, who also played a key role in India's run to the final at last year's Cricket World Cup, said she can remember all her 200 wickets and that she cannot pick a favourite from them.
"I remember each of my 200 wickets, right from the beginning of my international career in 2002. I still remember I got (Caroline) Atkins (the then England opener) out, caught in the slips. Mithali (Raj) was in the slip and she caught that catch," Goswami told the BCCI website.
She added: "Whenever I bowl at a crucial time in the match and end a partnership, it becomes special for me. I cannot pick one. All the wickets are planned. Every wicket is important."