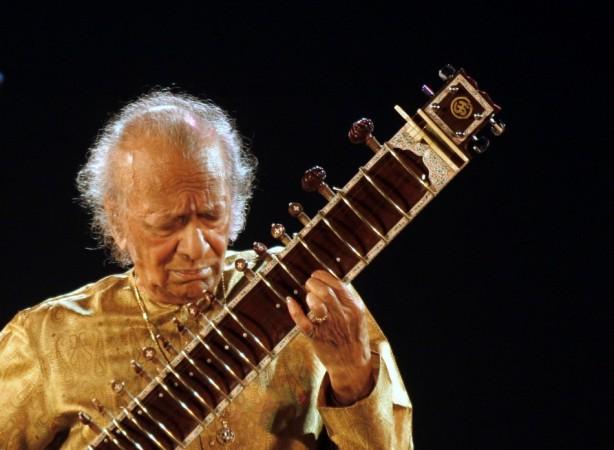 Legendary sitarist PT Ravi Shankar passed away on Tuesday in San Diego, US. He was 92.
According to NDTV, Shankar was admitted to Scripps Memorial Hospital, La Jolla, California, on Thursday after he complained of breathing problems. He passed away at 4:30 pm Pacific Time.
Born on April 7, 1920 in Varanasi, Shankar was popular for bringing Indian classical music to the West. He was expected to compete with daughter Anoushka Shankar, who is also a renowned sitarist, at the Grammy Awards in February.
His collaborations with western artists earned him international applause. Late Beatles guitarist George Harrison, who collaborated with him in the past, had described him as the "godfather of world music".
Apart from his pioneering work in music, the sitar legend was recognized for his philanthropic and spiritual activities. He had served as India's unofficial ambassador for music for almost three decades and was also nominated to the Rajya Sabha in 1986. The three-time Grammy Award winner was given India's highest civilian award, the Bharat Ratna, in 1999.
He has a second daughter, Norah Jones, who is a well-known singer in the US.
Shankar's death on Wednesday drew strong reactions from his homeland and around the world.
Prime Minister Manmohan Sing condoled his death on Twitter. "An era has passed away with Pt. Ravishankar. The nation joins me to pay tributes to his unsurpassable genius, his art and his humility," the Prime Minister's Office tweeted on Wednesday.
"A national treasure and global ambassador of India's cultural heritage," the PMO added.
Recalling Shankar's past performances, Indian ambassador to the US Nirupama Rao tweeted, "Pandit Ravi Shankar: his last concert was particularly poignant. Anoushka and he played together in perfect unison. A torch was passed."
Singer Paul McCartney of the Beatles also expressed his grief on the micro-blogging site, "Today, 12/11/12, Ravi Shankar joins George Harrison. We miss you both."
Indian television personality and MP, Derek O'Brien tweeted, "The Music just died...Pandit Ravi Shankar"