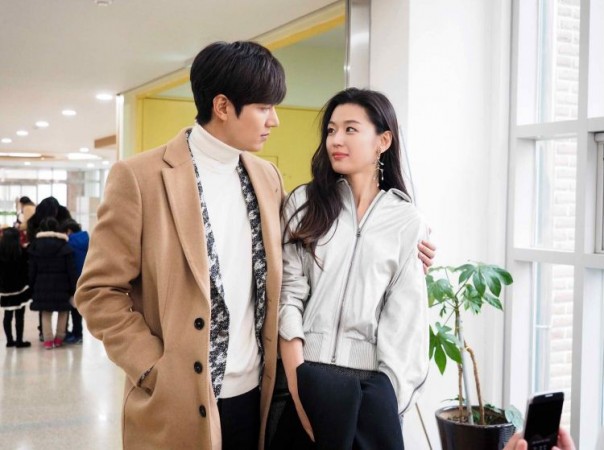 The Legend Of The Blue Sea fans are eagerly waiting for an official announcement from SBS regarding the next instalment of their favourite Korean drama. They are also curious to know if Lee Min Ho and Jun Ji Hyun will be replaced in season 2.
The Legend Of The Blue Sea director Jin Hyuk opens up about Hallyu star Lee Min Ho
Through an audience poll conducted by International Business Times India, 91 percent of the participants revealed that they would like to watch the second season of the show. Among them, some of the followers believe that the new instalment will feature the same cast list.
An admirer of the period drama, monikered Lee Kash, stated that no one can replace The Thieves actress and Boys Over Flowers star.
Meanwhile, a few of The Legend Of The Blue Sea fans think that Lee Min Ho and Jun Ji Hyun could be replaced by other popular onscreen couple, such as Moon Lovers: Scarlet Heart Ryeo stars, Lee Joon-gi and Lee Ji-eun a.k.a IU.
In reply to a Twitter poll conducted by IBTimes India, 48 percent of the participants opined that Heo Joon Jae and Shim Cheong will be portrayed by Weightlifting Fairy Kim Bok Joo stars Nam Joo Hyuk and Lee Sung Kyung in season 2. "Im all for sung kyung being the mermaid. She's tall, skinny, and fashionable like Ji Hyun! Woohhh," tweeted a follower of the mini-series.
Some of the fans also supported Descendants Of The Sun couple Song Joong Ki and Song Hye Kyo and stated that they would love to watch the two replacing Lee Min Ho and Jun Ji Hyun in the next instalment.
But by featuring a happy ending for conman Heo Joon-jae and his silver-tailed mermaid lover Shim Cheong in episode 20 (finale), the period drama hinted at a conclusion of the storyline. Additionally, the scheduled military enlistment of The Heirs star leaves no scope for the show to return with the same cast list.
However, there were many conflicts related to the supporting cast, which did not get a proper conclusion. When Shin Rin-ah's character Yoo-na revealed that she is a little mermaid, she mentioned that her mother was a mermaid and her father a human.
Earlier in the storyline, merman Yoo Jeong-hoon informed the female lead that the aquatic creature can survive in land only if their partner loves them back. So, how did Yoo-na's mother manage to stay alive after her husband left them.
The followers of the Korean mini-series are also excited to know if serial killer Ma Dae-young and his wife Kang Ji-yeon will return and plan their evil moves against the onscreen couple. But they will have to wait a little longer for an official confirmation from SBS to know more about The Legend Of The Blue Sea season 2.