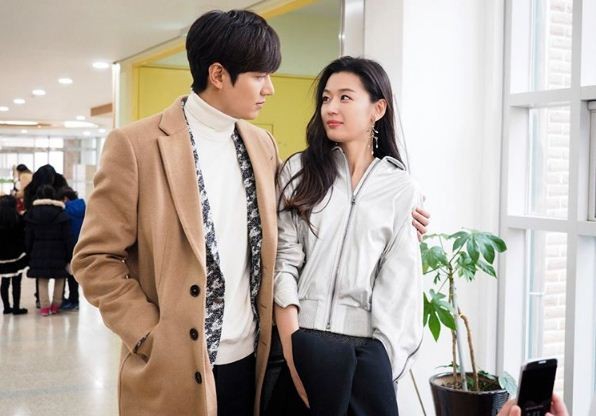 The Legend Of The Blue Sea creators have thanked the followers of the show for the rapid increase in viewership ratings by releasing a set of behind-the-scene images. The photos tease shocking twists for Heo Joon-jae and Shim Chung.
Also read: The Legend Of The Blue Sea episode 16 preview: Heo Joon-jae to meet with an accident?
While viewers have already learnt a lot about the onscreen couple and their past life as Kim Dam-ryeong and Se-hwa, they are yet to know many things about their connection with some of the people in the present. For instance, the child friend Yoo-na can hear the mermaid's thoughts right from the beginning, but even the female lead does not know the reason behind it.
Similarly, the step-brother Heo Chi-hyun always pretended to be a responsible and caring relative of the male lead. But recently it was revealed that he has his own hidden agendas. He was the one who killed the golden-tailed mermaid and her lover in the past.
Is the young child related to Ma Dae-young's son? The Korean mini-series is yet to introduce viewers to the biological father of Shin Rin-ah's character and the location stills (via Soompi) hint at her relationship with Lee Ji-hoon's character.
In one of the images, the antagonist can be seen chatting with Shim Chung's child friend. Another still features him at the doorsteps of Heo Joon-jae's apartment, probably to attend the mermaid's birthday party.
Is Heo Chi-hyun using Yoo-na to keep track on the onscreen couple? Fans of the Legend Of The Blue Sea will have to wait for the telecast of episode 16 to know more about it. Until then, you can catch up with the previous episodes online here.
Meanwhile, a few of the behind-the-scene images portray Shin Rin-ah's character with Jo Nam-doo and Tae-oh. It remains to be seen if she will tell them that she can hear the thoughts of Jun Ji-hyun's character.
Watch The Legend Of The Blue Sea episode 16 live online on SBS next Wednesday, January 11, at 10pm Korean time to find out what lies ahead for Heo Joon-jae and Shim Chung.