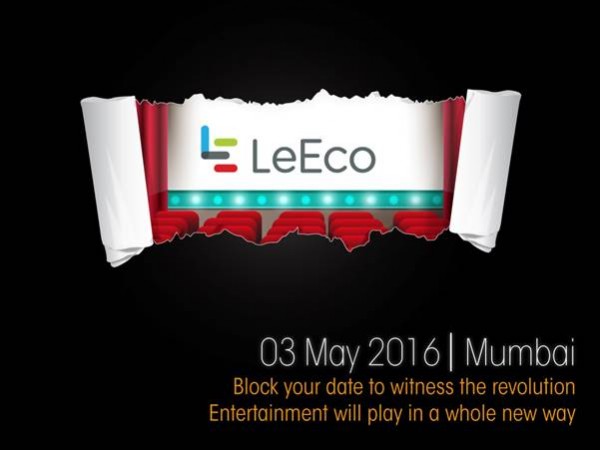 LeEco is holding an event in India on May 3, where it is expected to make some exciting announcements on the lines of content services and new products. Details of the event are scarce at the moment, but sources tell us that the company is expected to "redefine entertainment" on a whole new level and also launch a new smartphone specifically made for the Indian users.
LeEco picked Mumbai, the entertainment capital of India, for its event this time, which also hints that something big related to content is going to be announced on Tuesday. LeEco is also dropping hints about the event through its official Facebook page and hosting a contest for fans asking them to replace a word from a movie or a song with "Supertainment."
The Chinese Internet conglomerate also teased a photo, which shows an outline of a smartphone and an entertainment chair with LeEco's new logo on it. The photo is captioned, "we are the content pioneers" and mentions the venue and the date of the upcoming event.
In its home country China, LeEco has established a name for its extensive content ecosystem, making it one of the largest video streaming companies. LeEco offers more than 100,000 episodes of TV shows and over 5,000 copyrighted films in China. Its plans for India are not entirely clear on the content providing field, but the company had partnered with Eros Now for Video-on-demand (VOD) and YuppTV for TV content streaming earlier this year.
LeEco is planning to replicate its successful ecosystem in India, more of which we expect to hear at the event. The company has already revealed its plans to invest $10 million in setting up in-house cloud and content delivery networks (CDNs) across the country by the end of this year. The new infrastructure would strengthen its content delivery capabilities in both mobile and TV segments.
Besides content and services, LeEco might also take the opportunity to launch a new smartphone. Sources have informed us that the new smartphone will be disruptive in terms of pricing and that it would cost cheaper than the popular Le 1s. In terms of specs, the handset will retain most of the premium specs of the Le 1s.
If the rumours are to be believed, LeEco might also launch three new smartphones, Le 2, Le 2 Pro and Le Max 2, at the event on Tuesday. We will be attending the event to bring you the live coverage as major announcements happen. Stay tuned.