While Qatar has already made headlines after Saudi Arabia and several other Gulf nations severed diplomatic ties with it accusing it of funding terrorism, Lebanon now fears that it may meet with the same fate as Qatar. After Lebanese prime minister Saad al-Hariri announced his resignation on November 4, bankers and politicians in the country believe that Saudi may have similar plans regarding Lebanon if its demands aren't met.
Qatar may have quite a few natural and financial resources in the form of liquefied natural gas, but Lebanon doesn't have these facilities and relies heavily on the remittances it receives from the about 400,000 of its citizens working in the Gulf.
Even though Saudi Arabia or any other Gulf nation hasn't spoken about any kind of blockade on Lebanon yet, the fears of the citizens aren't unfounded as Hariri himself has warned his nation that the sanctions could come any time. In a broadcast from Riyadh, Hariri said that Saudi Arabia has very specific conditions for Lebanon, and that it wanted Hezbollah, Lebanon's main political power and part of the ruling coalition, to stop interfering in regional issues, especially Yemen.
Discussing what Hariri said, a senior Lebanese official explained to Reuters: "These are serious threats to the Lebanese economy which is already dire. If they cut the transfer of remittances that will be a disaster." Another official also told the agency that Hariri's speech could have been an indication of what Lebanon may face if Saudi Arabia's demands aren't met. "The playbook is there in Qatar."
"There was no sugar-coating. The sanctions were spelled out clearly. They want Lebanon to be disassociated from Hezbollah," another source added.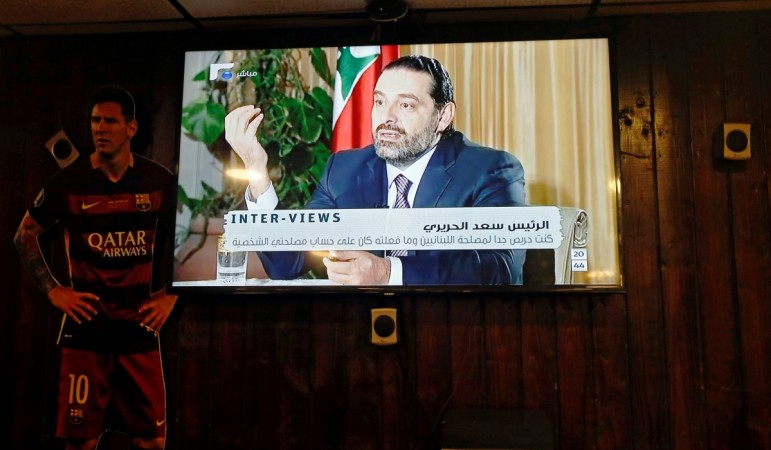 Meanwhile, it is being said that Saudi Arabia's demands may fall on deaf ears and Hezbollah is unlikely to relent. A source familiar with the issue explained that Hezbollah may make some adjustments, but completely agreeing with Saudi Arabia's demands seems doubtful.
Meanwhile, Hariri's resignation itself has raised quite a few eyebrows and many believe that he was forced to quit by "external forces," mostly Saudi leaders. It is speculated that he was called to Riyadh, forced to resign and put under house arrest. Even though Hariri, during the broadcast, seemed to refute these speculations saying he would return to Lebanon soon and may even reconsider his resignation, analysts told CNN that he looked very uncomfortable during the interview and looked like he was being forced to say these things.