Some pre-release aka internal builds of Windows 10 along with chunks of confidential source code from Microsoft's Shared Source Kit have leaked online. The Register reports that around 32TB of official and non-public installation images and software blueprints (compressed down to 8TB) were sourced from Microsoft's in-house systems and recently uploaded to betaarchive.com.
It is now ascertained that the company's Shared Source Kit contained coding info to the base Windows 10 hardware drivers, the official PnP code, USB and Wi-Fi stacks, storage drivers, and ARM-specific OneCore kernel code.
Given the highly sensitive and powerful coding info hidden in these confidential internal tools, anyone who gains access to it will be able to exploit security loopholes to hack Windows systems globally. As this code is intended to run at the heart of the operating system with high trusted levels, it could be manipulated to compromise all security mechanisms built into the software.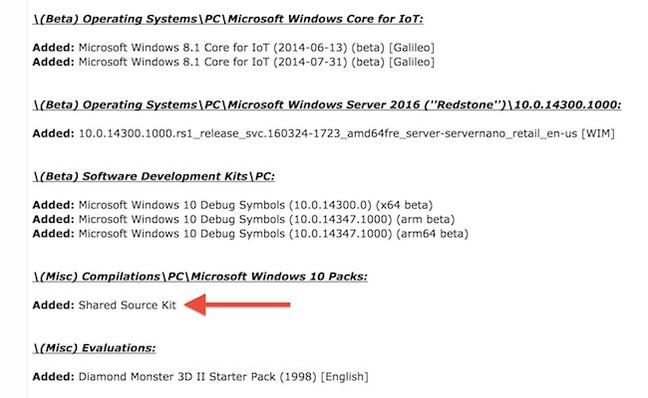 Apart from the leaked core source code, there have been several confidential internal builds of Windows 10 and Windows Server 2016 being leaked among copies of officially released versions. Most of these builds were meant for bug-hunting and testing (looking for security loopholes), which could prove extremely disastrous when it falls into the wrong hands.
For instance, the test builds include pre-release versions of Windows 10 Redstone and unreleased 64-bit ARM builds of Windows. Microsoft is in no position to revoke these internal builds from being downloaded by the public or misused by hackers, as its Secure Boot mechanism does not have any control over the firmware build that's out in the open.
Furthermore, the leak also includes several builds of Microsoft's Windows 10 Mobile Adaptation Kit which is a top-secret tool to enable the OS to run on multiple portable or mobile devices.
Microsoft Windows beta testers and members with access to the Beta Archive can still get this confidential data for free.
In a bid to avert any unforeseen cyber attacks, the Beta Archive's administrators are gradually taking down Microsoft's secret source code and internal builds of Windows from its FTP server as well as its forums.
The Shared Source Kit has reportedly been taken down by the admins after the leak was published by The Register along with some relevant screenshots that were taken from the forum post.
Here's what Beta Archive had to say in the aftermath of the leak making waves on the internet:
"The 'Shared Source Kit' folder did exist on the FTP until [The Register's] article came to light. We have removed it from our FTP and listings pending further review just in case we missed something in our initial release. We currently have no plans to restore it until a full review of its contents is carried out and it is deemed acceptable under our rules."