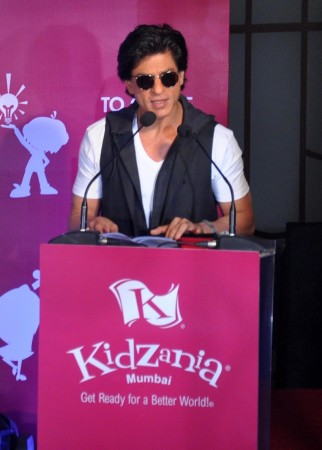 Shah Rukh Khan has reportedly been putting down his thoughts on paper for a planned autobiography titled "Twenty Years In A Decade" and a page, supposedly from his notebook, has made its way to the Internet.
Screenplay writer Neeraj Udhwani shared a picture on his twitter handle, which looks like a page from SRK's autobiography. Although, it is not confirmed it is from his book, but it surely has fans in a tizzy.
"If this is the book @iamsrk is writing, then I cannot wait for him to finish!And be the first one in the queue to buy pic.twitter.com/lsLEy0OZ97
— Neeraj Udhwani (@Neeraj_Udhwani) November 26, 2014
To Udhwani's post, Khan replied, "But the damn book doesn't seem to end...so many pages lie vacant that need filling..."
Back in 2011, SRK had mentioned that he was jolting down his experiences and journey to stardom in this book.
The actor had also mentioned the title was suitable as he had worked a lot between 1991 and 2001, and it seemed he had crammed 20 years of work in that decade. He was also reportedly on the verge of releasing the book in 2011. But, he said as soon as he thought the book was ready, something new happens in his life and he starts writing again.
"I have written a book and its complete now. I will ask my writer friends to edit it so that I can release it. I have been writing it over last ten years. It is titled Twenty Years In A Decade because I feel that in ten years I have lived a life of 20 years between 1991-2001. The book is about positivity, hope and it is also funny, just like me. I have written things about my life in the most fun way," a previous report in DNA quoted the actor as saying.
Meanwhile, the superstar is riding high with the stupendous success of his latest film "Happy New Year" along with Deepika Padukone, Abhsihek Bachchan, Sonu Sood, Boman Irani and Vivaan Shah.
Currently, the king of Bollywood is busy shooting for another Yash Raj project "Fan". Directed by Maneesh Sharma, it is supposedly based on the story of a fan, whose only wish is to meet the star he has idolised for long.