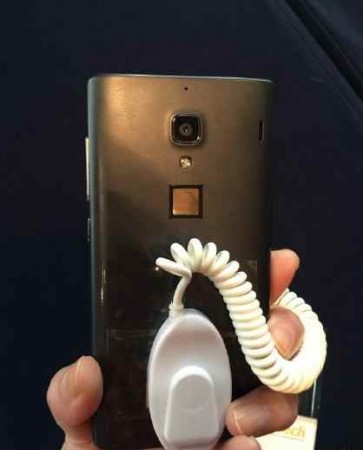 Xiaomi has acquired huge revenues by selling their entry-level smartphone Xiaomi Redmi 1s in the Indian market.
Now, the Chinese smartphone manufacturer is reportedly working on the second edition of the same. According to a report by Android Headlines, Redmi 2S has already received the TENNAA certification and also seen in Antutu benchmarks.
Now, a latest post on Chinese socialmedia website Weibo shows a few photographs of a Xiaomi smartphone which looks quite similar to Redmi 1s and features a fingerprint sensor below the rear camera unit.
The fingerprint scanner is slowly becoming a must-have feature on flagship and mid-budget smartphones, but if our speculations hold true, Xiaomi Redmi 2S will be the first budget smartphone to feature this and that surely will become the USP of this upcoming smartphone.
According to TENNAA, Xiaomi will also improve the hardware specifications for Redmi 2S smartphone. In comparison to Xiaomi Redmi 1S, Redmi 2S will purportedly feature a better processor (Qualcomm Snapdragon 410 instead of 1S's Snapdragon 400) and a better front camera (2MP instead of previous generation's 1.6MP). Apart from these three features, Redmi 2S will retain the same 4.7-inch 720p display with 1GB RAM and Android Kitkat 4.4 with MIUI interface layered over it. Xiaomi may feature 16GB of in-built memory as a replacement for Redmi 1S's 8GB of storage capacity.
Going by the pictures, it seems Xiaomi hasn't experimented much with the looks and retained the similar round cornered boxy shape of Xiaomi Redmi 1s android smartphone.