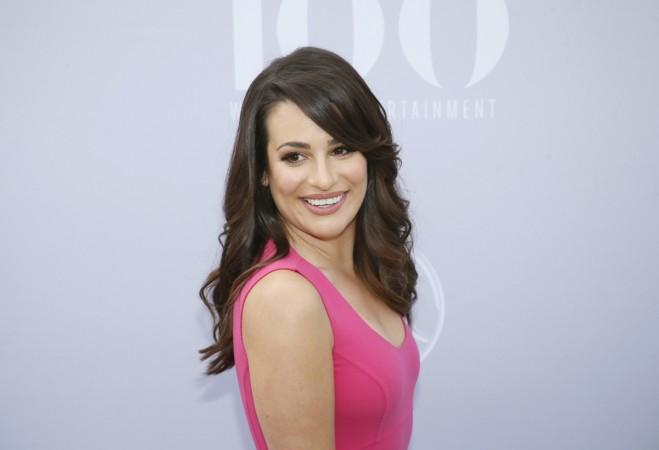 Lea Michele is one stunning actress who is ever so confident about her body. Never shying away from flaunting her toned body, the Glee actress has once again stripped down to pose topless for a new photo shoot.
Posing semi-nude for a series of bedroom photoshoots, the actress looks sizzling hot in the new pictures. Making the series fun, sultry and raunchy all at the same time, the actress made fans double-tap the screen as soon as she shared the images on her Instagram account. The photos were also shared on Twitter.
Also read: Topless Emily Ratajkowski flaunts her sexy curves
In the first of three pictures shared, Michele is seen in nothing but her lingerie bottom. Taking a jump off her bed, she holds her pillow against her bust to hide her modesty. Evidently happy, she is seen mid-air flashing her beautiful smile.
In the second, she is seen caught unbuckling her striped jeans, seated on the bed, again topless. Looking down at the zipper, Michele smartly places her long tresses to cover her bust. A seemingly candid shot, it is hard to shift focus from her toned tummy and arms as she was captured between her routine act.
However, it is the third image that steals the cake. Michele leaves extremely little to the imagination. Wearing boyfriend jeans (indicating that indicating she is sporting clothing from her boyfriend Zandy Reich's clothing company, AYR), 31-year-old covers her breast with the help of one hand while the other holds the jeans from falling. Showing off her side profile for the image, Michele seduces the camera with some help of her sultry eyes.
Her long wavy locks fell perfectly down her back and shoulder as she posed for her bedroom series. The new pictures add to the collection of her nude, semi nude and sultry Instagram posts that are running on the social media platform for a few months now.
On the work front, Michele is starring in the new ABC series, The Mayor as a political advisor. It premiered on Oct 3 and has been receiving positive reviews.