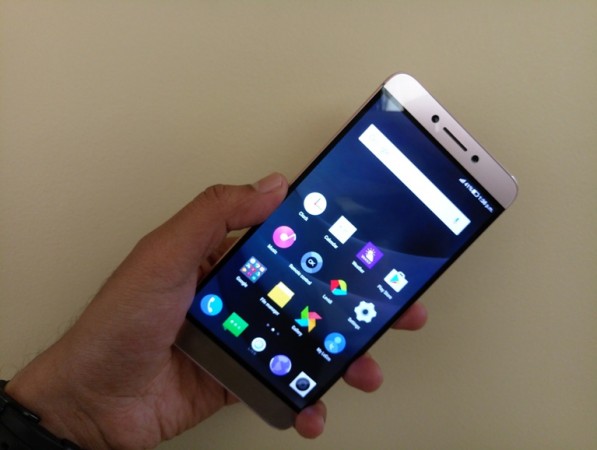 LeEco's presence in India is getting stronger by the day and its smartphones are one of the best selling products. From Le 1s to Le Max 2, the Chinese smartphone maker has recorded a commendable growth in the competitive Indian market with its effective pricing and value-for-money features.
LeEco Le Max 2, the company's most recent flagship, is a lauded device in the Indian premium smartphone market. It was launched in India at Rs. 22,999, but the festive season discount brings this powerful device down to Rs. 17,999.
Based on this price, we reviewed the Le Max 2 to see how well it delivers in terms of daily use and its worth against its rivals such as Lenovo Z2 Plus, OnePlus 3, Oppo F1s, and Xiaomi Mi 5.
Read: OnePlus 3 Review I Lenovo Z2 Plus Review
Before we get started, below is the complete spec-sheet of the Le Max 2:
Display: 5.7-inch QHD display
Processor: Qualcomm Snapdragon 820 quad-core CPU
RAM: 4GB DDR4
Storage: 32GB
Main Camera: 21MP Sony IMX230 camera with dual LED flash, PDAF, f/2.0 aperture
Selfie Camera: 8MP f/2.2 camera with 76.5 degree wide-angle lens
Battery: 3,100mAh with Quick Charge 3.0
Add-ons: Fingerprint sensor, CDLA audio port, USB Type-C, Dual SIM, Dolby Atmos
Dimensions: 156.8 x 77.6 x 7.99mm
Weight: 185 grams
Given this spec-sheet, Le Max 2 clearly has the best value for money. It has everything an average user seeks in a high-performing smartphone.
Le Max 2's design is refined with metal finish and the 5.7-inch display surprisingly fits in the hand comfortably. The 2K display ensures good viewing angles and ensures good readability even in bright sunlight. The rear panel has the camera module and a fingerprint scanner, which is powered by Qualcomm's Sense ID for accuracy and speed.
One of the biggest features we liked in the Le Max 2 is the CDLA loss-less audio, which is by far the best we've heard. But customers can experience this at a much lower cost with LeEco's budget offering, the Le 2. The CDLA headphones are sold separately at Rs. 1,990, but make sure you shop during the festival to get them for free. A worthy add-on you should not miss.
In terms of performance, we did not regret having the Le Max 2. Compared to the original Le Max, this device is a massive improvement. There was hardly any lags while using multiple apps or browsing for long hours. The Snapdragon 820 is to thank for in this regard. The elite performance of the Le Max 2 was also reflected in the benchmark tests we ran. Below are the results: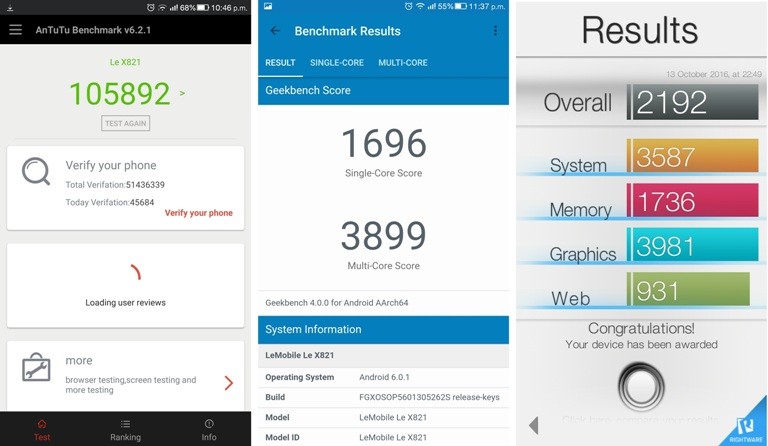 The battery optimisation is also better in the Le Max 2. The 3,100mAh battery charges quickly, which was a setback in the original Le Max. With calls, internet and browsing, the Le Max 2 lasted eight hours. But if you are an avid gamer, expect the battery bars to drop quickly.
Le Max 2 also has a good enough camera to keep your photography skills at best. It delivers good results even in low-light conditions, but we noticed lack of detail in macro-shots, something its rivals OnePlus 3 was really good at. If we are comparing Le Max 2's camera with OnePlus 3, there is a lot of room for improvement.
Below are some sample shots from Le Max 2 for your perusal: [SLIDESHOW]
Verdict
Le Max 2 has several strong points such as good design, display, fingerprint scanner, audio and performance. If we are not comparing the phone with its rivals in the Rs. 20,000 to Rs. 30,000 price range, it is one of the top 3 smartphones worth buying at Rs. 17,999. The closest rival to the Le Max 2 is the Lenovo Z2 Plus, which also has several strong points, but both phones are entirely different in terms of design. For a much handy phone, the Z2 Plus can be a good choice, but for a big smartphone with high-end specs, the Le Max 2 is a wise choice.