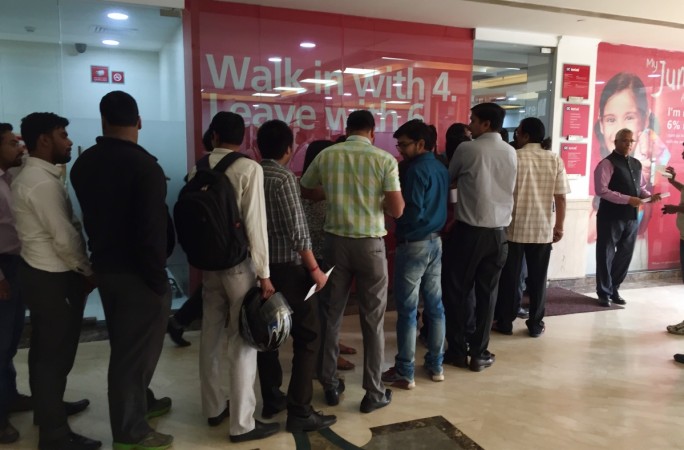 The Modi Government's decision to demonetise Rs 1,000 and Rs 500 currency notes earlier this week sent the country into a tizzy. Banks reopened on Thursday, after an unprecedented closure for a day, and are seeing long queues outside every branch. ATM machines remain shut and while there have been mixed reactions, citizens have accepted the fact that they will be inconvenienced for some days before normalcy returns. Amid all this, while Twitter, Facebook and WhatsApp have seen plenty of jokes, there is humour happening on the ground as well.
In Gurgaon, all policemen's leave has been cancelled and they have been asked to stay on duty to guard banks and post offices. At a queue outside an HDFC Bank branch in the millennium city, a lady was overheard asking where these policemen were since none could be spotted. "Madam," responded an elderly gentleman, "they too have to get their notes changed before they return home tonight, otherwise no dinner!" Another man in the same queue, narrated the news about robbers in Noida who returned 500-rupee notes and slapped their victim for not carrying change!
A mother of two teenagers had broken open her children's piggy banks because they were away in hostels and had come up with Rs 17,000 to be deposited. "Pocket money," she explained, somewhat embarrassed. Her neighbour wanted to know how large those pockets were.
An elderly gentleman was offered an accelerated entry by the security guard but he declined: "If I don't do this much now, how will future generations benefit?" he insisted. To this, a young salesman who was very late for work, grumbled and wished he could jump the queue because his boss was looking for him and his colleagues in office had run out of excuses.
Another college-going girl was also upset at her parents who thought "PayTM karo" was a joke: "Weird, my dad is, man! And guess what, he thought I had to return my Samsung Note also!," she was heard telling someone on the phone.
By now, things were livening up and a lady wanted something to eat because she had been standing there for two hours. An office-goer opened his tiffin box and passed it around... all was well. Amid the banter, another homemaker's phone rang; she looked at it and quickly put it away, explaining to a newly-made acquaintance, "My husband... he doesn't know I am here and will be very angry. In fact, he doesn't even know I have this money made from selling old newspapers and bottles. 6,000 rupees it is, over so many years!"
The high point, however, was a portly gentleman who looked puzzled at people discussing the helpful nature of the HDFC Bank staff who were getting id cards photocopied and fetching drinking water when required. "But why is everyone praising HDFC when we are standing in an Axis Bank line?" he asked aloud. Stunned silence. The others looked around and realised that the poor man had ended up in the wrong queue as it snaked its way around, for right next door was an Axis Bank branch whose line was headed the other way.
Suddenly, a young bank executive emerged to announce that they had run out of cash, temporarily. More chaos as Chinese whispers spread all the way to the back of the queue and someone quipped, "We keep standing and money runs out. Where did it go?!"
Money certainly can be funny when it wants to be.