Ancient remains of humans and extinct animals belonging to the Ice Age have been discovered in the world's biggest flooded cave in Mexico. The discoveries, which are at least 9,000 years old, shed light on the Maya civilization.
The cave holds relics of ancient humans and animal bones, like that of giant sloths, ancient elephants and extinct bear species from the Pleistocene period, commonly known as the Ice Age, reports AFP.
Inside the cave were also wall etchings, ceramics and a shrine dedicated to the Mayan god of war and commerce. One of the sinkholes found in the cave leads to a staircase that connects it to the middle of the jungle.
The Yucatan peninsula in Mexico has previously been found to hold many relics of the Mayan people, revealing that their cities were connected to an extensive sinkhole network, called cenotes. So far, 248 cenotes have been discovered at the 347 kilometer (216 mile) cave system known as San Actun, which is near the Tulum beach resort.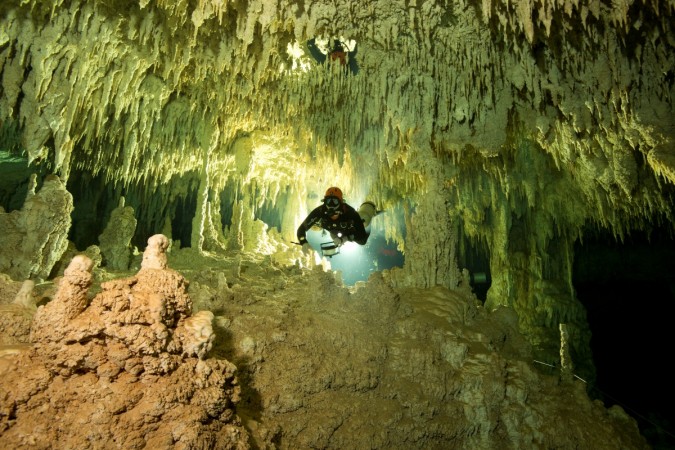 Archaeologists found that Sac Actun is connected to another underwater cave called Dos Ojos through a long passage, making the whole site 347 kilometer (216 miles) long. Some of the cenotes discovered in this region hold religious significance for Mayan descendants.
The discovery has overwhelmed the archaeological world. "Without a doubt, it's the most important underwater archaeological site in the world," Mexico's National Anthropology and History Institute (INAH) researcher Guillermo de Anda told AFP. "It is very unlikely that there is another site in the world with these characteristics."
Mexico's National Institute of Anthropology and History revealed the findings, saying that the cave was sacred for ancient Mayans and dates back to a period between 2.6 million and 11,700 years ago.
"There is an impressive amount of archaeological artefacts inside, and the level of preservation is also impressive," said Anda, who had previously revealed that the site holds Mayan graves, extinct fauna and evidence of the first settlers in America.
Researchers are now exploring the site further to find out whether it is connected to any more ancient underwater systems.