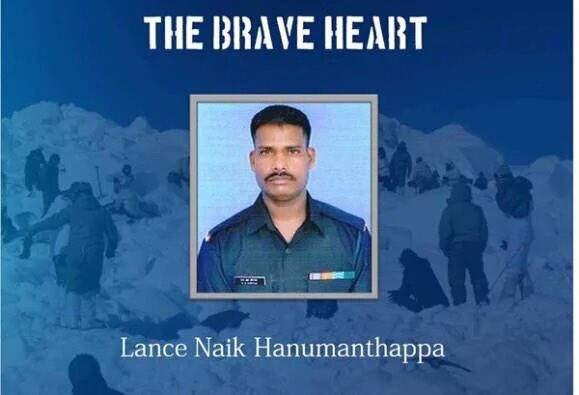 Saddened by the death of Lance Naik Hanumanthappa Koppad, celebs like Rana Daggubati, Sachin Tendulkar, Mohanlal, Nikhil Siddhartha, Rakul Preet Singh, Lakshmi Manchu and Lavanya Tripathi have taken to expressing their grief in public.
Lance Naik Hanumanthappa Koppad, who hailed from a farming family in the Dharwad district of Karnataka, was one of the 10 soldiersburied under snow on Feb. 3 in Siachen while guarding the Sonam post located at a height of around 20,500 feet in the Himalayas. He survived six days 25 feet under the snow, and was pulled out alive by rescuers on Monday.
He was admitted to the Army's Research & Referral hospital in New Delhi, where he was put on ventilator. His condition steadily deteriorated due to multiple organ failure. He was in coma and battling for his life. He breathed his last at 11:45 a.m. on Thursday. Millions across the country, who were surprised by his providential survival under snow for six days, had been praying for his recovery for the past three days.
Many celebs were among the millions who prayed for Lance Naik Hanumanthappa's recovery. An hour before his death, Akkineni Nagarjuna wrote on his Twitter account: "Lets all say a prayer for lance naik #Hanumanthappa/may he recover soon and get back to his family (sic)"
Soon after the shocking news, many celebs took to their Twitter handles to pay their tribute to his departed soul and offer condolences to his bereaved family. Here are some stars' comments, reproduced as-is from Twitter:
Sachin Tendulkar: The only ray of hope amidst the devastating news of the avalanche was finding one of our jawans alive against all odds. Hearing of his demise leaves the entire nation shattered. I have always held our armed forces in the highest regard, especially those who serve in these extreme conditions. RIP Lance Naik ‪#‎Hanumanthappa‬
Rana Daggubati: Extremely saddened to hear about Lance Naik Hanumanthappa's demise. India has lost a brave soldier. Salute his courage. May his soul RIP!!
Mohanlal: I'm deeply saddened to hear that we lost Hanumanthappa. May the souls rest in peace for the fallen entire 10 proud brave soldiers. A big salute from me with tears of pride. Jai Hind
Allari Naresh: RIP Lance Naik Hanumanthappa. Royal salute to our braveheart. #SiachenAvalanche
Nikhil Siddhartha: The Story of #Hanumanthappa shud be a lesson for all of us... Salute his strength for not giving up till the end...
Manchu Manoj: Rip #RIPHanamanthappa u r an inspiration to the world to live strong
Rahul Ravindran: RIP Lance Naik Hanamanthappa The nation will mourn Hanamanthappa.. But none more than the rescue team. Read about the brave men and dogs.
Ramya Krishnan: RIP#Hanamanthappa we salute & thank u for your sacrifice. The nation shall be ever grateful to u and your selfless service.
Lakshmi Manchu: Truly too sad. My deepest condolences.
Rakul Preet Singh: RIP Lance Naik Hanamanthappa ... Salute!!!!
Lavanya Tripathi: Salute to the real heroes..under rated but the most deserving..extremely sad to hear abt Hanumanthappa..and all those who lost their lives..
Krish Jagarlamudi: The brave soldier #Hanumanthappa had slipped into deeper sleep.. Salute Martyr and may his soul rest in peace
G Sriniwasa Kumar: Sad to to hear :( #Hanumanthappa Amar rahe Jai Jawan #siyachin
Vennela Kishor: RIP Soldier And also Salute to these soldiers who laid their lives in the line of duty owing to deadly avalanche. RIP
RIP Soldier pic.twitter.com/M6EBuLn9bA

— vennela kishore (@vennelakishore) February 11, 2016
And also Salute to these soldiers who laid their lives in the line of duty owing to deadly avalanche. RIP pic.twitter.com/2KMHBp2Hzx — vennela kishore (@vennelakishore) February 11, 2016
Stand up hero pic.twitter.com/WCzkneOteQ

— Manchu Manoj (@HeroManoj1) February 11, 2016