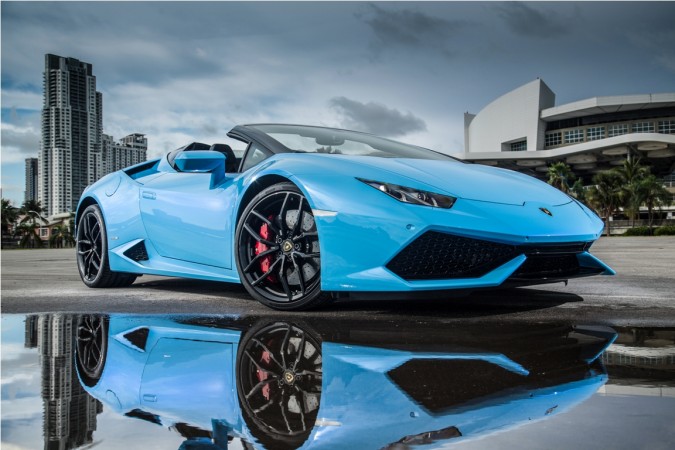 Italian sports car-maker Lamborghini launched on Thursday the Huracan LP 610-4 Spyder, the drop top version of the Huracan coupe, priced at Rs. 3.89 crore, ex-showroom Delhi. The LP 610-4 Spyder is the third model to be launched in the Huracan super car family in India after the LP610-4 coupe and rear-wheel drive LP580-2.
The Huracan Spyder features the same design and powertrain as the Huracan LP 610-4 coupe except the roof. The LP 610-4 Spyder is powered by a naturally aspirated 5.2-litre V10 engine that develops 602bhp of power at 8,250rpm and 560Nm of torque, mated to seven-speed dual clutch transmission, with power transmitted to all four wheels. It also comes with three driving modes — Strada, Sport and Corsa — just like the Huracan coupe.
The LP 610-4 Spyder required additional 0.2 seconds to match the 3.2-second 0-100kmph speed of the coupe sibling before reaching a top speed of 324kmph. The company claims the aluminium and carbon fibre chassis of the LP 610-4 Spyder offers 40 percent more rigidity than its predecessor, the Gallardo. The new super car also features "Cylinder on demand" — cylinder deactivation technology — in combination with a stop-and-start system for lower CO2 emissions.
The new hydraulically controlled soft top can be lowered in 17 seconds while the car is going at a speed of up to 50kmph. When the roof is folded down, two fins rise from the rear of the seats, improving aerodynamics and aiding in airflow to the engine compartment. The soft top comes in different colour options — black, brown and red.
[1 lakh = 100,000 | 1 crore = 10 million | 100 crore = 1 billion]