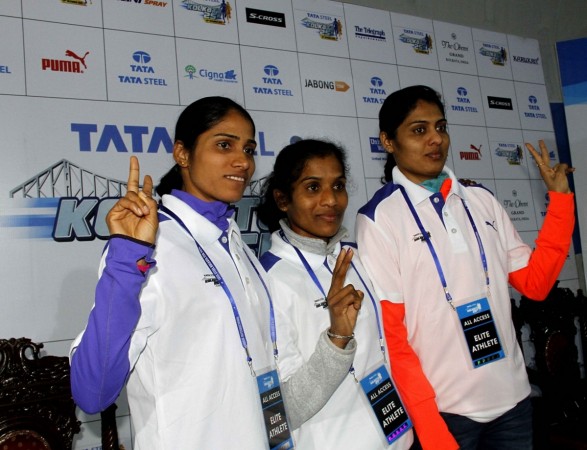 Indian female athletes are really making the best use of the ongoing Federation Cup National Athletics Championships to create milestones. A day after Dutee Chand achieved the best-ever national mark in the women's 100m race, Lalita Babar set a national mark in the 3,000m steeplechase race on Friday.
The 26-year-old long-distance runner, hailing from the Satara district of Maharashtra, clocked 9:27.09 to win the gold in the event at the JLN Stadium in New Delhi.
Sudha Singh, meanwhile, won the silver in the steeplechase race after recording a time of 9:31.86. In the process, she also achieved something that Dutee couldn't achieve on Thursday — bagging a quota place for India in the Rio Olympics 2016. The 2016 Olympics qualification mark in the steeplechase event was 9:45.00.
The 29-year-old, hailing from Raebareily in Uttar Pradesh, now joins Lalita in the Olympics. Lalita had qualified for the mega quadrennial sporting event at the 2015 World Athletics Championships in Beijing.
"I have only being training continuously for the last 15 days. Even my coach wasn't expecting me to do well," Lalita told the Indian Express after the race. "He [my coach] started saying I could get the national record and had to push myself."
Lalita also felt proud of Sudha's achievements. "Sudha had not qualified for the Olympics yet, but she had been training for the last three-four months. Because I did not have that much practice, I didn't want to set a pace that would not be enough for her to qualify for the Olympics."
Both Lalita and Sudha have Nikolai Snesarev as their coach. The no-nonsense Belarusian has now asked his wards to prepare harder for the Rio Olympics 2016. "Today was a good performance, but the athletes should not be satisfied with this performance," Nikolai told the Indian Express after the race. "They have lots more to do before going to the Olympics."
Meanwhile, the duo is also available to participate in the women's marathon event in the Rio games, but the Athletics Federation of India officials have asked them to compete only in the 3,000m steeplechase race, according to a Press Trust of India report.