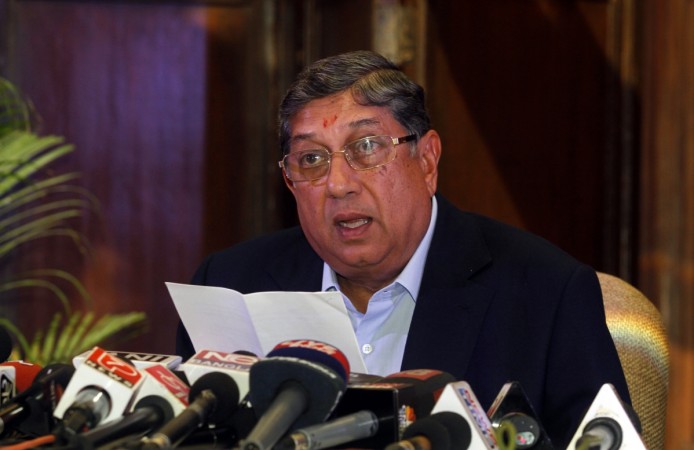 Former Indian Premier League (IPL) chief Lalit Modi's email leak row has taken a new turn as the latest revelation has targeted former Mumbai police commissioner Arup Patnaik and another ex-IPL chairman Ranjib Biswal.
Modi has been accused of trying to influence the judicial process into IPL betting and match-fixing scandal case against ex-BCCI President N Srinivasan with the help of both Biswal and Patnaik.
The allegations were made by Neeraj Gunde in a letter sent to the government on 11 February. Gunde claims to be a close aide of Srinivasan, who is presently the chairman of International Cricket Council (ICC) and managing director of India Cements Limited.
In the letter, Gunde claimed to have accessed Modi's emails, citing which he alleged that Modi "brokered the deal" with Biswal and Patnaik "to unseat Mr Srinivasan..." The Indian Express reported.
However, both Patnaik and Biswal has refuted the allegations saying that they have not been in contact with Modi at the time emails were claimed to have been exchanged.
"I have never interacted with Lalit Modi. I know of Ranjib Biswal but he is not an acquaintance. I categorically deny having any association with Modi, leave alone the question of interceding on his behalf," said Patnaik, who served as Mumbai police commissioner from February 2011 to August 2012.
Meanwhile, Biswal said, "I have not spoken to Modi since the time he left India in 2010. There has been no association with him whatsoever."
Government forwarded letter to CJI in May
Although the government received Gunde's letter citing the alleged emails by Modi in February, it forwarded it to Chief Justice of India only in May.
The Law Ministry forwarded the letter on 20 May to the Principal Private Secretary of the Chief Justice of India requesting to take "action as appropriate."
This suggest that the government was aware about the violation of Modi's privacy even before UK national newspaper The Sunday Times leaked an email citing conversation between former IPL chief and British MP Keith Vaz.
The conversation revealed that External Affairs Minister Sushma Swaraj had in July 2014 assisted Modi in getting approval for his travel papers as he had to visit Portugal for his wife's surgery on 4 August.