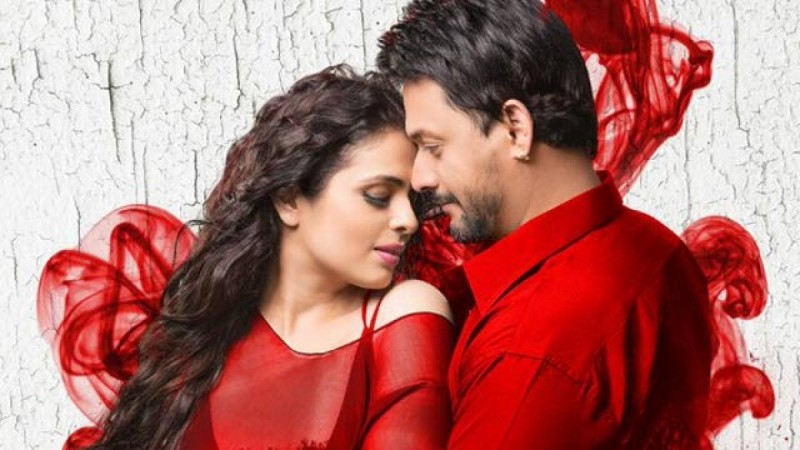 Sanjay Leela Bhansali's Marathi movie "Laal Ishq," starring Swwapnil Joshi, Anjana Sukhani and Sneha Chavan, has received positive reviews from the audience, who are all praises for the hero.
"Laal Ishq" marks the debut of leading Bollywood producer Sanjay Leela Bhansali in the Marathi film industry. Bhansali has co-produced by the movie with Shabina Khan under the banner Bhansali Productions. The audience say the film has rich production values and it has taken the Marathi film industry to the next level.
"Laal Ishq" is a romance mystery thriller with story and screenplay by Shirish Latkar; Swapna Waghmare Joshi directed it. The film deals with an interesting story that has been never featured in Marathi cinema. Its scripting is said to be the highlight of the film.
Yash Patwardhan (Swwapnil) is a superstar who agrees to be a part of his mentor's play. He starts rehearsals with the entire team of the play at a resort, where he falls in love with Janhavi (Anjana), who is a staffer engaged to marry the owner of the resort. In a twist, Poddar, the director of the play, is murdered at the resort and investigators consider Yash and Janhavi as the main suspects. The rest of the movie revolves around this mystery.
The audience say Swwapnil Joshi, who plays a superstar with a grey side, has delivered a superb performance, which is one of the biggest attractions of "Laal Isq." What has thrilled most viewers about Swwapnil is his transformation from a lover boy to an antagonist. They say he is the showman in the film.
Anjana Sukhani has also delivered a good performance and won the heart of the audience. Sneha Chavan, Samidha Guru, Kamlesh Sawant, Jayant Wadkar, Priya Berde, Piyush Ranade, Yashashri Masurkar, Milind Gawli and Uday Nene have also done justice to their roles, which are big assets of the movie. We bring you the viewers' verdict of the film, as shared on Twitter. Here is the "Laal Ishq" movie review by the audience.
Raj-SwwapnSonaleeian ‏@raj88_kiri
Watched #LAALISHQ Ystrday. Superb Acting, Suspense, Thriller, Music, Dance, Direction, Cinematography. Perfect 5⭐️
Kumud Chaudhary ‏@kumudchaudhary1
Thoroughly enjoyed #LAALISHQ . @swwapniljoshi plays a charmer with aplomb and @swapnawj proves her craftsmanship yet again .Bravo !
Akshay ‏@iam_Akshay17
#Laalishq Must watch Paisa vasul movie aahe.. Your performance is better than best @swwapniljoshi sir. "Chand Matala" tar #EkachNo.
Jaladhi Chhaya ‏@jaladhi11
@swwapniljoshi tumchya Ishq jinklaa, gripping plot, nicely acted, first marathi romantic thriller. Liked @LaalIshqFilm @swapnawj #LAALISHQ
SJ's Faithful ‏@Niiiikhilghuge
Great movie, direction, music n all characters have performed outstanding.. hats off guys!You nailed it #LAALISHQ @LaalIshqFilm @swapnawj @swwapniljoshi expressions, dialogues, style was mind blowing. u perfectly nailed it dadu Lubuu #LAALISHQ
Bolly Spoilerz ‏@BSpoilerz
#LaaLIshq is throughout engaging. @swwapniljoshi steps out of comfort zone and does complete justice. Deserves a watch!! I enjoyed.
Yashuuu ‏@jadhao_yash
#LaalIshq FDFS, Chala Hawa Yeu Dya - One Of The Best Episode, Bhau, Kushal,Bharat Sir,Sagar n Hukumi Ekka @swwapniljoshi Sir #LaalIshq MindBlasting Mvi @swwapniljoshi Hukumi Ekka Back With Bang, Blockbuster @LaalIshqFilm Theater Mdhe Bgha, Say No To Piracy
Mohsin Mullah ‏@TheMmoseen_87
Quality was always the Backbone of #Marathi films & now they are really strengthening Production values too #LAALISHQ is the perfect example. After @iamsrk we have @swwapniljoshi who can transform his Lover boy image into a antogoinist one with extreme ease !!!#LAALISHQ
Sarang Mahatme ‏@sarangkng
Just Saw #LAALISHQ It Like #CID director by #SRK #SwapnilJoshi
Laalishq_Pooja ❤ ‏@Poojasawant95
Luvd #LAALISHQWatched it FDFS lyk evry mvi of SJ..8th one in a row☺Thrilling murder mystery wid d blend of romance