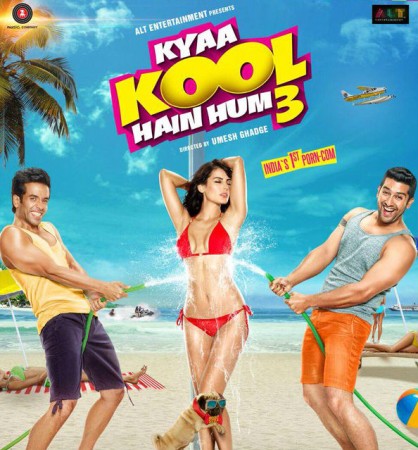 Aftab Shivdasani and Tusshar Kapoor starrer adult comedy "Kyaa Kool Hain Hum 3", which is said to be India's first porn-com, has failed to make it through the Central Board for Film Certification (CBFC) of Pakistan. The Pakistani censor board has banned "Kyaa Kool Hain Hum 3" citing that it was unsuitable for public exhibition.
The ban came after the CBFC and its provincial censor boards decided in a meeting that the film has over the top vulgarity.
CBFC chief Mobashir Hasan said that "Kyaa Kool Hain Hum 3" was found to be an "out and out obscene film" with vulgar dialogues and nudity, according to Press Trust Of India. He also said that the film could not be allowed to go up on theatres even with an adult rating.
Fakhre-Alam, chairperson of the Sindh Board of Film Certification (SBFC), told PTI that all the provincial censor boards, including Punjab and Sindh, found the film unsuitable for screening due to its content.
"The film is full of nudity and has a lot of vulgar content in its dialogues. The board has officially disallowed the film from public viewing," he said.
Interestingly, the film was released in Pakistan on Friday and several theatre owners screened the film for two days before they received orders to suspend the screening.
"We have issued a showcause notice to the distributor and he faces a hefty fine for importing this film and selling it to some exhibitors without first going through proper channels," Hasan said.
Meanwhile, the film was released in India on 22 January with an "A" certificate. The censor board asked the makers to make 34 changes in the film, which includes the changing of characters' names, deletion of some scenes and alteration in certain dialogues, according to Mid-Day.
Directed by Umesh Ghadge, "Kyaa Kool Hain Hum 3" features Tusshar, Aftab and Mandana Karimi in the lead roles. The adult comedy also features Gizele Thakral, Claudia Ciesla, Krishna Abhishek and Shakti Kapoor in pivotal roles.