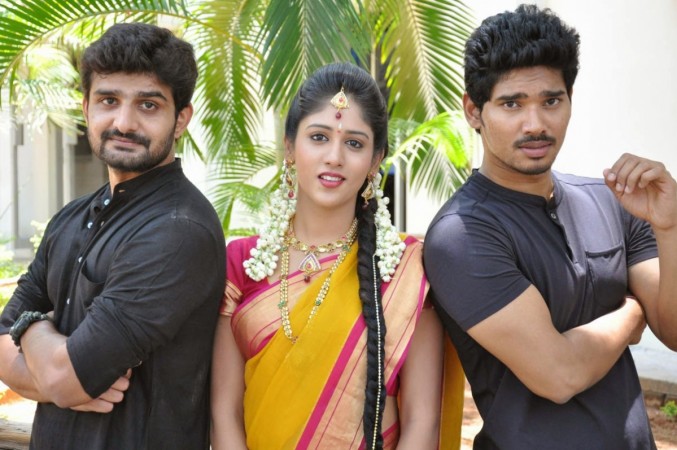 Director Vara Mullapudi's Telugu movie "Kundanapu Bomma," starring Sudhakar, Sudheer Verma and Chandini Chowdary, has received mixed verdict and poor ratings from the critics.
Suchi (Chandni Chowdary) is a daughter of landlord Mahadevaraju from Vijayanagaram. Her father is hell-bent on marrying her to her bava Gopi (Sudhakar), but Gopi is not interested in marrying her. Suchi falls in love with car mechanic Vasu (Sudheer Varma). When the two decide to reveal their love story to their elders, Gopi changes his mind and agrees to marry Suchi. What happens next forms the crux of the story.
"Kundanapu Bomma" has routine romantic story and the director has failed to execute it on screen. Vara Mullapudi has made the film a boring watch with his outdated screenplay and dialogues. The film has good production elements and MM Keeravani's music, picturisation, family atmosphere and village set up are the big attractions on the technical front.
Newbie Chandni Chowdary has delivered good performance and her histrionics are the sole attraction of the film. Sudhakar Komala and Sudheer Varma have delivered good performances, which are the assets of the film. Rajiv Kanakala, Nagineedu and others have done justice to their roles in the film.
"Kundanapu Bomma" has been rated an average of 1.75 out of 5 stars. We bring you some critics' verdict and ratings for the film. Continue to see them in "Kundanapu Bomma" review roundup:
Kundanapu Bomma lacks a concrete plot and its narrative tone raises a toast to the films made in the 90s. There's no attempt to make the film contemporary even in the packaging.
The movie was burdened with poor execution. While the story was more or less engaging, the screenplay, cinematography and dialogues felt outdated. The comedy was way off the mark. Jhansi is cast in this movie just for a comedy track that has nothing to do with the plotline. Cringeworthy indeed.
The movie may have an interesting one-liner, but the narration is completely poor. Music is by M.M.Keeravani and it is unbelievable he agreed to compose music for such a movie. There is zero clarity in the story, characters, everything. The family atmosphere is good. But that is also let down by dialogues and narration.
Tollywood rarely gives second chances to film makers who disappoint with their first film. One should take things very seriously and grab the opportunity that has been given to them. But sadly, in this case director Vara Mullapudi misses out on many factors and makes this film a boring and outdated affair. Except for Chandni Cowdary's lively character, this film has absolutely nothing to offer.