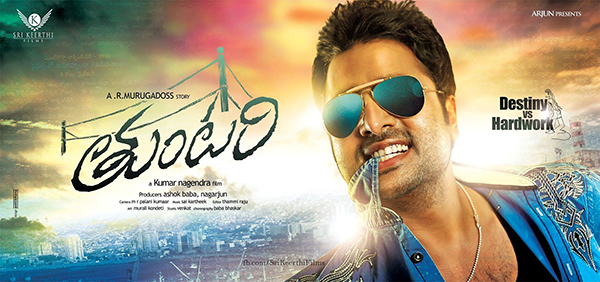 Director Kumar Nagendra has revealed that he has added masala elements like comedy, romance and emotions in "Tunturi" to suit the image of actor Nara Rohit.
"Tunturi" is a remake of AR Murugadoss' hit Tamil fantasy film "Maan Karate," which is about four friends, who work hard to make the prediction of a solitary person come true. "Gundello Godari" fame Kumar Nagendra has penned the screenplay of the Telugu version. "We made a lot of changes. We added a bit of comedy, romance and emotions to suit Rohit's image," the director 123 Telugu.
Kumar Nagendra says he decided to remake "Maan Karate" in Telugu because its story will impress the Telugu audience. "The plot of the original was quite interesting and had an fantasy effect. After watching the film, I felt that it would be a perfect fit and suit the Telugu nativity quite well," he said.
Nara Rohit watched the movie and was impressed with it. He was thinking of its Telugu remake, when Kumar Nagendra approached him with its script. The actor had a clear idea on how his role needs to be featured in "Tunturi." So he helped the director to scripting process.
"Rohit also saw the film and liked it very much. He was keen on remaking it in Telugu and once I met him with the script, things fell into place automatically," Kumar Nagendra said. "He was quite clear as to how he would portray his role. He also wanted a few scenes to be changed to suit the nativity here," the director added.
Nara Rohit is seen romancing newbie Latha Hegde in "Tunturi," which features Kabir Duhan Singh, Pujitha Ponnada and Vennala Kishore in important roles. The movie is produced by Ashok and Nagarjun under the banner Sri Keerthi Films and it is slated to be released in theatres on March 11.