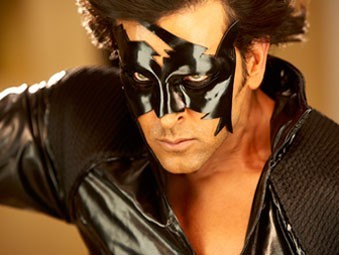 Hrithik Roshan starrer "Krrish 3" earned ₹35.91 crore on Monday, making it the highest first weekday collection recorded ever.
After the weekend, the earnings of the films generally go down, but the superhero flick "Krrish 3" has shattered that trend by earning a whopping ₹35.91 crore on first Monday.
According to trade analyst Taran Adarsh, the film has also crossed the ₹100 crore mark at domestic box office.
"And *highest single day* record lies shattered. #Krrish3 collects History on Mon. Collects ₹ 35.91 cr. The highest *single day* figure EVER. #Krrish3 hits a ton. Crosses ₹ 100 cr mark on Mon. Fri to Mon: ₹ 108.61 cr," Taran Adarsh tweeted.
The four day breakup of the film at domestic box office is: Friday ₹25.5 crore, Saturday ₹23 crore, Sunday ₹24.3 crore and Monday ₹35.91 crore.
"Chennai Express" holds the record of fastest film to cross the century mark. The family entertainer film starring Shah Rukh Khan and Deepika Padukone hit the century club in four days, including paid previews.
Now the science fiction superhero starrer has become the second fastest film to hit a ton in India, followed by "Ek Tha Tiger" at third spot.
The Tuesday business of the film is expected to escalate as the pre-booking occupancy at several screens is very good, Adarsh said.
The film opened to an overwhelming response at the overseas box offices in the opening weekend. It raked in ₹23.58 crore in its opening weekend from international arena.
The country wise opening weekend breakup of the film according to Adarsh is:
UK ₹4.05 crore (£ 408,627), US ₹6.84 crore ($ 1.1 million), UAE-GCC ₹7.95 crore (AED 4.7 million), Australia ₹1.23 crore (A$ 207,602), New Zealand ₹31.10 lakh (NZ$ 60,542), Pakistan ₹1.57 crore (PKR 2.7 cr), Fiji ₹9.51 lakh (FJD 28,056), Singapore ₹61.74 lakh ($ 100,000), Netherlands ₹21.6 lakh ($ 35,000), Mauritius ₹37.04 lakh ($ 60,000), South Africa ₹19.75 lakh ($ 32,000) and Belgium ₹12.96 lakh ($ 21,000).
The worldwide total of the film now stands at ₹132.28 crore. "Krrish 3" has finally ended the dry spell at the box office. The four day trend box office trend suggest that the film will take its first week total to more than ₹140 crore.