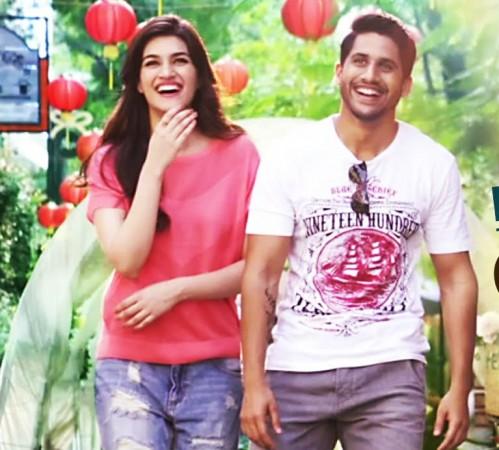 Actress Kriti Sanon, who is busy shooting for her second Telugu film titled "Dohchay", has revealed the look and other details of her role in the Naga Chaitanya starrer.
Kriti Sanon says that plays a tomboyish medical student in "Dohchay".
"My styling is quite different; my look is casual with baggy tops and ripped, rugged boyfriend jeans. Perhaps, this is the first time that something like this has been done in Telugu. I play Meera, a medical student, who isn't interested in studies," she told The Times of India.
The actress further says that Meera is much interested in mischevious stuff. "She is a complete tomboy and the type of girl, who loves bunking classes, climbs over walls, and watches two to three films a week. And she's addicted to messaging and chatting. She's also very confident and blunt with her opinions. It was a fun role to play," Kriti added.
At 5'9", leggy lass Kriti is couple of inches taller than Naga Chaitanya. Naga had consistently said that the difference in height was never a problem and Sanon also believes so. "My height was never a big deal on the sets. In fact, Naga Chaitanya was totally cool about it," the actress said.
Kriti had a good time with Naga on the sets of "Dohchay" and was all praise for the actor for it. "I had a wonderful time working with him and he's a chilled out guy. We used to talk a lot about our work, kept pulling each other's leg and at times, laughed over silly videos on the Internet," she said.
The actress is just two films' old in the industry and has already made her mark, winning the Filmfare Award for Best Debut Actress for her performance in "Heropanti". Having almost wrapped up "Dohchay", she recently joined Shah Rukh Khan and Rohit Shetty for the shooting of film "Dilwale", which will feature her opposite Varun Dhawan.