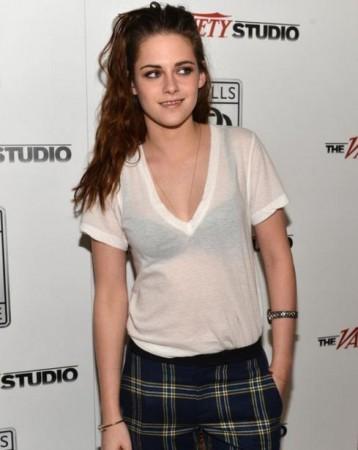 Twilight star Kristen Stewart seems to be back to her free self after reuniting with her ex-boyfriend Robert Pattinson, as she was caught flaunting her twin assets in a see-through tops at a film event on Wednesday night.
The 22-year-old actress, who was guest of honour at the Variety Awards Studio in Los Angeles, walked the red carpet in see-through white tops, exposing her black bra.
Reports are doing the rounds that Kristen Stewart has won back boyfriend Robert Pattinson and is trying to please him. OK! Magazine even reported that they are planning to wed and start family soon.
The couple split in July after Kristen Stewart cheated on Robert Pattinson with her "Snow White and the Huntsman" director Rupert Sanders, before reuniting after staying away from each other for a couple of months.
Robert Pattinson and Kristen Stewart looked inseparable at the premieres of their film "Breaking Dawn Part 2" around Europe.
It was reported that Robert Pattinson's mom Clare Pattinson has forgiven Kristen Stewart.
"Kristen and Rob's mom hugged when they saw each other at the after-party. They looked really happy to see each other and spent quite a bit of time talking and laughing. Bill Condon and Rob were also there, but they were talking to each other, and Kristen and Rob's mom were talking to each other," HollywoodLife.com quoted a source as saying.
"Kristen and Rob's mom looked like they have a great relationship. I didn't see any tension between them whatsoever!" added the source.