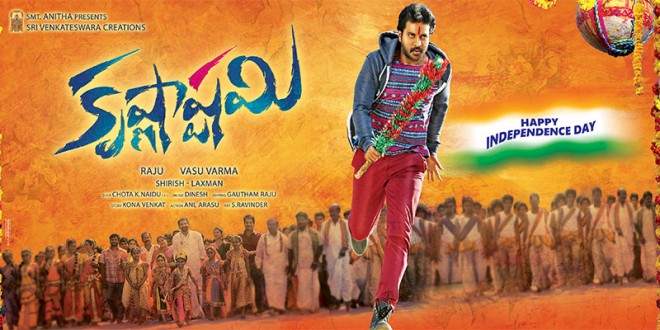 Comedian-turned-hero Sunil's much-awaited Telugu movie "Krishnashtami", which was released in theatres around the world Feb 19, has garnered negative review and average ratings from critics.
"Krishnashtami" is a commercial entertainer written and directed by Vasu Varma. The film revolves around the story of NRI Krishna (Sunil) who wants to settle down in India, but his family does not allow him to come to India.
Whenever he plans a trip to India without the consent of his family, he is attacked by an unknown group. He escapes and lands in a typical Rayalaseema family. He is shocked to find out the entire family is after his life. What happens next forms the crux of the movie.
The critics are very disappointed with director Vasu Varma for his story and direction. The movie has a routine, predictable and outdated story, and the director has failed to exploit Sunil's talents, they say. Sunil has done justice to his role, but his performance fails to save this film, they add.
"Krishnashtami" has good production elements, and the music and picturisation are highlights on the technical front, say the critics, adding that it is the worst film made under Dil Raju's banner Sri Venkateswara Creations. The movie has been rated an average of 2.25 out of 5 stars. Here's what the critics' have said about and rated the film. This is the "Krishnashtami" review roundup:
Krishnashtami tries to position itself as a family entertainer, action flick and romantic drama and falls short on all counts.
Vasu he hasn't learnt a lesson in all these years as he has stuck to the same old formula of the hero landing in the villain's house with some other identity. This is a really an old story and has been done to death in Tollywood. You will definitely feel that you have seen this earlier while watching it. Krishnashtami is a predictable, outdated film based on an old formula.
A done-to-death formula that has a hero who sleepwalks through his role, a family that is uninteresting, a plot that is stale.
Audience are very used to Sunil's comedy and crazy feats on screen. But sadly, that is missing big time with his role in Krishnashtami. Interesting interval bang and some comedy scenes here and there are basic assets of this film. Watch it only if you have nothing else to do as this film has nothing new to offer and ends up as a routine and outdated family drama.
It is sad to see such a lame film from the banner that has offered some memorable movies in the last decade. Sunil's obsession with commercial films isn't going to help him in longer run. He should stick to his strengths rather trying hard to impress as a so called commercial movie star. Despite some funny moments here and there, watching this family entertainer is a painful experience on a whole.
The audience doesn't seem to tire of watching the formulaic films but that time is fast approaching when they'll finally snap and shout - 'Enooooouuuugh!'. Krishnashtami hopefully rings the alarm bell.