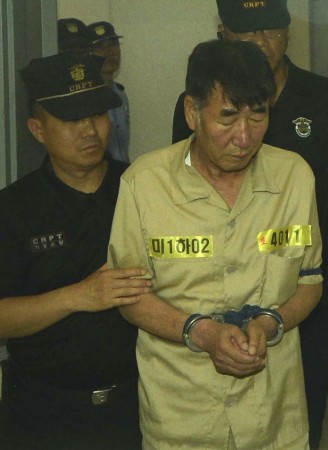 Crew members including the captain of the ferry that sank in April killing more than 300 people, most of them school children, were put on trial on Tuesday.
The ship named Sewol, sank off the southwest coast on 16 April carrying mostly students who were on a school trip, on their journey from Incheon on the mainland to the southern holiday island of Jeju. The ship was said to be overloaded and travelled too fast.
As the crew members were taken for trial, angry family members took chance to hurl a spate of comments on the men, some of them calling the captain 'murderer.'
"That guy is the captain, isn't he? Murderer!" someone shouted as the defendants were led in.
One relative was holding a sign board that read: "You are not human. You are beneath animals." As security guards tried to take the sign away, a bitter rift ensued in the court premises.
In a video, the crew members of the ship and the captain, wearing only underwear, were seen earlier abandoning the ship while the school children stayed obeying the orders of the captain. The death of the 300 people has now been attributed to the crew members' negligence.
Captain Lee Joon-seok, 68, and three of his senior crew members were charged with homicide which will carry a maximum sentence of death. Two other members were charged with fleeing and abandoning ship – a charge that carries a maximum sentence of life imprisonment. Nine others were charged with negligence which will carry just jail terms.
Out of the 476 passengers on board the ill-fated ship, 339 were children and teachers from the same school, who were on their way for a trip. A massive search team of divers and recue operators were able to save only 172 people with the rest all presumed to have drowned. One diver also later died while searching for bodies.
On Tuesday, as the crew members were taken for trial, mourning family members packed the court in Gwangju – the closest city to the scene of disaster.
"They say wounds heal as time goes by, but, for us, it's like time has stopped," a statement from family members sent to reporters before the trial, read.
"The defendants, who should have saved the passengers first, ran out first and lived...The defendants not only killed the passengers, they also killed the souls of the families and basic trust in our society."
The prosecutor, who was fighting tears as he presented his case, said that one child caught on video, recovered later, was staring death in the face.
"I'm not a criminal, I don't know why this is happening," the child said. "I haven't done anything that bad."
Authorities are still looking for Yoo Byung-un, head of the family that owned and operated the sunken ferry, on charges of embezzlement and criminal negligence.
With inputs from Reuters