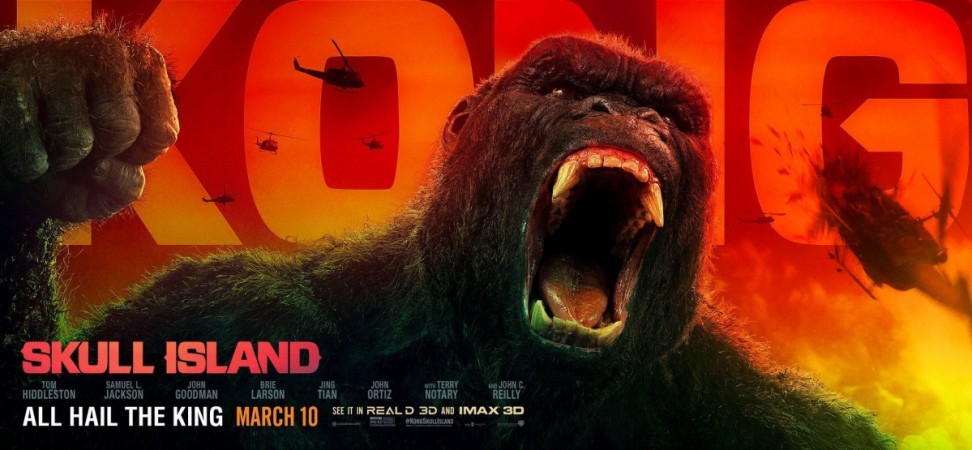 The monster roared louder than the mutant as Kong: Skull Island earned more than Hugh Jackman's Logan at the box office this weekend. Warner Bros and Legendary's Kong: Skull Island become the third biggest hit of 2017 surprising box office analysts' expectations. The film debuted over the weekend at an estimate of $142.6 million worldwide to beat Logan for the number one spot this weekend, Box Office Mojo reports.
The movie was expected to earn $45-50 million, but broke all expectations to smash records. The film earned $61 million in the US alone, as on March 12, screening in 3,846 locations. The international box office collection constitutes of $7.6 million opening in the UK, $7.3 million opening in Korea, $6 million in Russia, $5.6 million in Mexico, $4 million in France; $3.6 million in Taiwan; $3.5 million in Australia and $3 million in Germany, the website writes.
Also Read: Logan worldwide box office collection: Hugh Jackman's cracker set to give xXx: The Return of Xander Cage record a hiding
The mighty beast was followed by Logan at number two spot and Get Out at number three. The box office numbers are a boost to the upcoming Godzilla movies planned by the production house. The box office success will encourage the franchise as WB and Legendary have planned on Godzilla 2, scheduled to release in 2019 and Godzilla vs King in 2020.

Into its second weekend, Logan earned an estimate of $37.85 million this weekend, adding up to over $150 million in just ten days. Hugh Jackman's last outing as Wolverine has taken over as the second largest grossing movie in the X- Men series. The film needs $27.2 million to top 2009's X-Men Origins: Wolverine.
As of now, Box Office Mojo writes, Logan stands as the second largest domestic release in 2017. It is expected to cross The LEGO Batman Movie's collection to top the list.
The upcoming weekend could take an unexpected turn as Disney's Beauty and the Beast releases in theatres on March 17. The 1991 remakes featuring Emma Watson has created a great buzz and expectations are high from the movie. The Deadline reports that the movie is expected to open to a three-day weekend of $100 million.