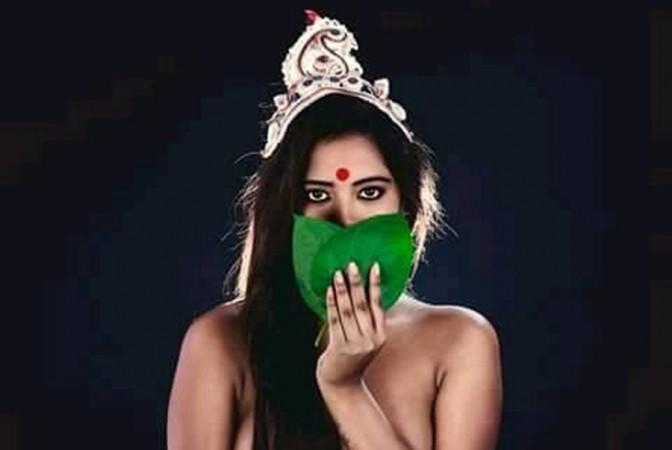 Pritam Mitra, a Kolkata wedding photographer, has received death threats over the phone and on social media for carrying out a photoshoot of a model posing as a Bengali bride without clothes.
In the controversial picture, a model can be seen posing without her clothes, wearing a traditional headgear and covering her breasts with her long hair. She can be seen covering her private parts with Sindur Kouto (Kumkum box), an essential aspect in a Bengali marriage. She can also be seen covering her face with betel leaves.
The photo immediately went viral on social media as soon as the photographer posted it on a Facebook page called Bong Crush.
While some hailed Pritam for breaking the stereotypes and crushing the patriarchy, some took offence to the theme used for the photoshoot. They felt the photographer was hurting religious sentiments and belittling Bengali and Hindu culture by making a girl pose without clothes as a Bengali bride.
One of the social media users had also threatened to kill Pritam if he did not take down the post within 24 hours. Some even issued a bounty for bringing his head.
Rattled and afraid of the constant death threats, Pritam approached the Kolkata Police on Friday and filed a police complaint against them, according to Zee 24 Ghanta, a Bengali news channel. The cyber crime team of Kolkata police is currently investigating the case.
Here's the photo - [WARNING - some viewers may find it offensive]
https://www.facebook.com/1893488910671378/photos/a.1893491514004451/1987548261265442/?type=3&theater