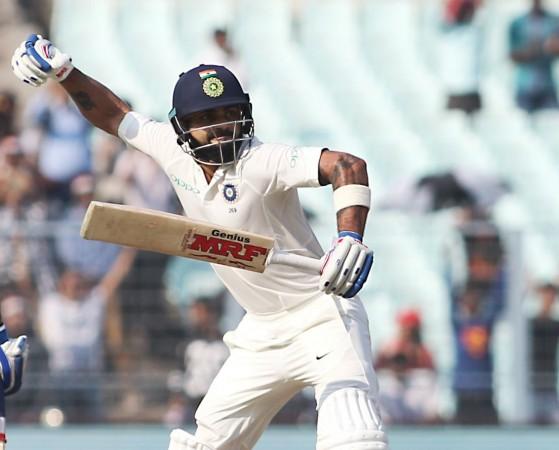 Indian captain Virat Kohli's journey to an incredible 50 centuries in international cricket began at the iconic Eden Gardens in Kolkata in December 2009.
In eight years since his maiden hundred in top-level cricket, Kohli completed a half century of tons, at the same venue, yesterday (November 20) during the India-Sri lanka 1st Test, which ended in a thrilling draw.
The 29-year-old Kohli is only the eighth batsman in history to have reached the milestone of 50 international hundreds. The leader of the pack is Sachin Tendulkar with 100.
Kohli made his international debut on August 18, 2008, against Sri Lanka, in a One Day International in Dambulla. His Test journey began on June 20, 2011 in Kingston, against West Indies.
After nine years in international cricket, Kohli has become one of the best batsmen. He has already shattered several records.
He is the joint fastest to 50 international tons along with Hashim Amla. Both batsmen took 348 innings to reach the milestone.
So far Kohli has played 61 Tests, 202 ODIs and 55 T20Is. He has 32 hundreds in ODIs and 18 in Tests.
Here is the full list of Kohli's 50 international hundreds (As on November 20, 2017)
ODIs (202 matches, 9,030 runs, Average - 55.74, 100s - 32, 50s - 45)
1. 107 Vs Sri Lanka - Kolkata (December 2009)
2. 102 not out Vs Bangladesh - Dhaka (January 2010)
3. 118 Vs Australia - Visakhapatnam (October 2010)
4. 105 Vs New Zealand - Guwahati (November 2010)
5. 100 not out Vs Bangladesh - Dhaka (February 2011)
6. 107 Vs England - Cardiff (September 2011)
7. 112 not out Vs England - Delhi (October 2011)
8. 117 Vs West Indies - Visakhapatnam (December 2011)
9. 133 not out Vs Sri Lanka - Hobart (February 2012)
10. 108 Vs Sri Lanka - Dhaka (February 2012)
11. 183 vs Pakistan - Dhaka (March 2012)
12. 106 Vs Sri Lanka - Hambantota (July 2012)
13. 128 not out Vs Sri Lanka - Colombo (July 2012)
14. 102 Vs West Indies - Port of Spain (July 2013)
15. 115 Vs Zimbabwe - Harare (July 2013)
16. 100 not out Vs Australia - Jaipur (October 2013)
17. 115 not out Vs Australia - Napur (October 2013)
18. 123 Vs New Zealand - Napier (January 2014)
19. 136 Vs Bangladesh - Fatullah (February 2014)
20. 127 Vs West Indies - Dharamsala (October 2014)
21. 139 not out vs Sri Lanka - Ranchi (November 2014)
22. 107 Vs Pakistan - Adelaide (February 2015)
23. 138 Vs South Africa - Chennai (October 2015)
24. 117 Vs Australia - Melbourne (January 2016)
25. 106 Vs Australia - Canberra (January 2016)
26. 154 not out Vs New Zealand - Mohali (October 2016)
27. 122 Vs England - Pune (January 2017)
28. 111 not out Vs West Indies - Kingston (July 2017)
29. 131 Vs Sri Lanka - Colombo (August 2017)
30. 110 not out Vs Sri Lanka - Colombo (September 2017)
31. 121 Vs New Zealand - Mumbai (October 2017)
32. 113 Vs New Zealand - Kanpur (October 2017)
Tests (61 matches, 4,762 runs, Average - 50.12, 100s - 18, 50s - 14)
1. 116 Vs Australia - Adelaide (January 2012)
2. 103 Vs New Zealand - Bengaluru (August-September 2012)
3. 103 Vs England - Nagpur (December 2012)
4. 107 Vs Australia - Chennai (February 2013)
5. 119 Vs South Africa - Johannesburg (December 2013)
6. 105 not out Vs New Zealand - Wellington (February 2014)
7. 115 Vs Australia - Adelaide (December 2014)
8. 141 Vs Australia - Adelaide (December 2014)
9. 169 Vs Australia - Melbourne (December 2014)
10. 147 Vs Australia - Sydney (January 2015)
11. 103 Vs Sri Lanka - Galle (August 2015)
12. 200 Vs West Indies - North Sound (July 2016)
13. 211 Vs New Zealand - Indore (October 2016)
14. 167 Vs England - Visakhapatnam (November 2016)
15. 235 Vs England - Mumbai (December 2016)
16. 204 Vs Bangladesh - Hyderabad (February 2017)
17. 103 not out Vs Sri Lanka - Galle (July 2017)
18. 104 not out Vs Sri Lanka - Kolkata (November 2017)