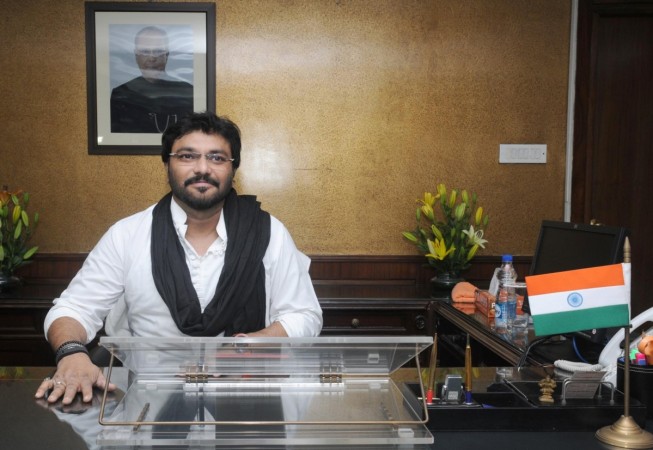 BJP workers staged a protest on Thursday in Kolkata against the attack on BJP leader and Union Minister Babul Supriyo in Asansol on Wednesday.
The BJP accused the Trinamool Congress for the attack, in which Supriyo was hit by a stone and his car was vandalised. He had gone to join a demonstration in his Lok Sabha constituency against Malay Ghatak, a Trinamool leader who reportedly allowed cows to be slaughtered there.
However, another video has surfaced showing Supriyo heckling a cop and threatening TMC supporters right after he was hit. He is seen snatching the policeman's cap and hitting him with it.
"What status do we have in a state where a Union minister can be pelted with stones?" asked BJP Rajya Sabha member Roopa Ganguly on Thursday.
The BJP expressed its outrage over the attack on Thursday. The party's spokesperson Sambit Patra said: "Is this Mamata raj or pure barbarism. A central minister, Babul Supriyo, is being hurt by a stone throwing at his chest by the workers of Trinamool Congress and in fact the police out there, which was supposed to give protection to the Union Minister, remained mute spectators."
Recently, Supriyo has been embroiled in multiple controversies, from cow vigilantism to being attacked by TMC workers and now the video showing him hitting a cop.
"I was going to the police station as advised, to get my workers released, who were lodged at different police thanas, and a group of TMC goons attacked me," he told Times Now. "A brick hit me on the chest," Supriyo added.
"Yesterday, we were out to catch people who were running illegal slaughter houses right near a minister's house," he said on why he was being attacked. "We found out that these illegal slaughter houses had been running since a long time as the minister was being paid for their smooth functioning," Supriyo added.